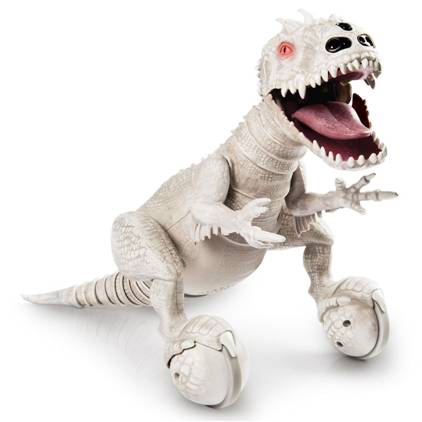 This robot dinosaur toy from Zoomer is a collectible robotic edition Zoomer Dino you will want to own.
Straight from Jurassaic World, this Indominus rex remote control dinosaur is a hybrid creation of a number of different species. Capturing the most fearsome features of the Tyrannosaurus, Velociraptor, Carnotaurus, Giganotosaurus, Majungasaurus, Rugops and the Therizinosaurus species, this creature is a force to behold. The name "Indominus rex" means "Untamable King" and in robot form, will be a remote control dinosaur you will want to keep your eyes on.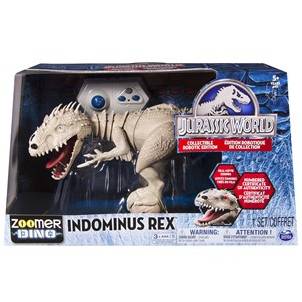 In our review, we will take a look at all the things that make Indominus Rex unique. We will also detail some of what you can expect when caring for Rex and how best to get him to respond to you before you adopt him.
When you play with Zoomer's Indominus Rex, you will undoubtedly laugh and have fun terrorizing the household but be forewarned that this dinosaur robot may not be too popular with your pets!
If you choose to buy this collector's edition Indominus Rex, here is what will come with purchase:
1 – Indominus Rex Dinosaur Robotic Toy
1 – Certificate of Authenticity
1 – Jurassic World Remote Control
1 – USB Charging Cable (wall adapter not included)
1 – Instruction Manual
Interactive Zoomer Indominus Rex Features
If you are a first time buyer of a Zoomer interactive robotic toy, know that this toy will interact with you based on how you play with it and the commands you give it. This toy also has a little independent streak and may act out on his own — always keep your eyes peeled.
Rex will be excitable, will run around, get into things, perform some amazing tricks and will expect plenty of attention from you.
Here's are the features that make him special: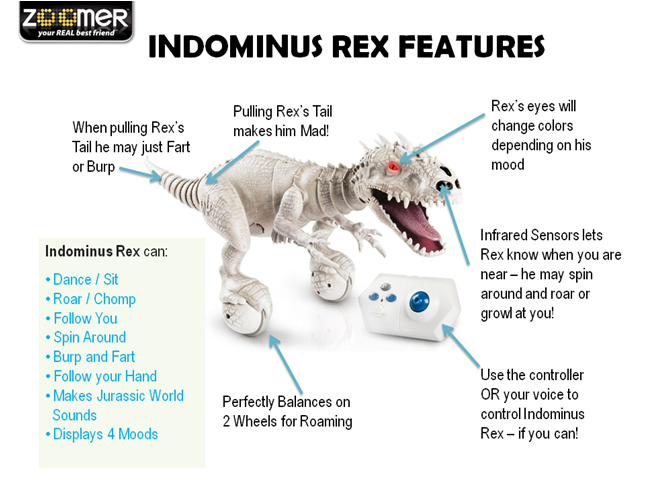 Rex gets his energy from a USB charger that plugs into your  laptop or your computer. You can buy separately, a USB wall adapter that plugs into a household outlet that can be used instead of your computer.
Fully charged, Rex will respond to the sound of your voice as well as your hand and body gestures and features real sounds from the movie Jurassic World.
This Jurassic World creature displays different personalities — Happy, Curious, Angry, Gesture and Control Pod moods that develop based on type of play.
Each mood is expressed through sounds and color changes in Rex's eyes. Red = Angry, Yellow = Control Pod Mode, Purple = Hand Gesture Mode, Green = Happy and Blue = Curious.
An included a square wireless remote controller, with a joystick and buttons lets you direct his moves as an alternate to using hand gestures.
The joystick on top of the controller lets you control his head and tail movement or press it in conjunction with the "run" button to send him into the chase mode.
Press the "angry" button behind the joystick and his eyes will flash red while he chomps and roars. Should he tip over during his "tantrum", pressing the "angry" button will also help him get up. Located just behind the "run" button is a "chomp" button where you can make him snap his jaws. When using the controller, his eyes will flash yellow.
This dinosaur robot was designed with the trademarked "True Balance Technology" which means he is perfectly balanced for navigating your flat surfaces on two wheels without tipping over (unless having a tantrum).
He can do some of the same physical moves you might expect from a dog like sit, wag the tail, cock the head, dance, spin in circles, chase, plus move forward and backward.
He has the ability to make some rather ferocious roaring, snapping and chomping sounds but also makes less intimidating sounds when he is happy.
Indominus Rex can be taught tricks and the more he is played with, petted and teased, the more he responds, turning into a true, if not protective, play companion.
Zoomer Indominus Rex Facts for Parents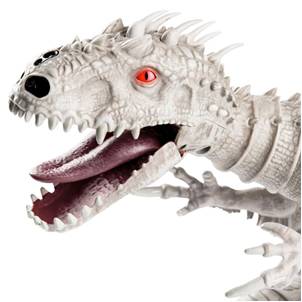 This collectible Zoomer Dinosaur has many features and are what make him so fun to play with. But certain facts about Rex may be nice to know before you make a decision to buy:
Rex requires three (3) AAA – Alkaline batteries that are not included.
Initial charging time for Rex is about one (1) hour. During charging, an LED light above the USB port on his underside will glow "RED" while charging. This differs from the way the original Zoomer is charged. The light goes "off" when charging is done.
You can expect 20 to 30 minutes of continuous play time on a full charge.
There are three (3) different languages Rex understands — English, French and Spanish. To make a language selection,  simply choose "A" for English, "B" for French or "C" for Spanish. Then pat him on the head to wake him up.
This Dino robot will start out in a "Listening" mode. Question marks will appear in his eyes while he waits for your voice command. If you see an "X" in his eyes, it means he did not understand your command and you will need to repeat it. Be sure to stand no more than 3 feet away from his sensors for best results.
In "Training" mode, do not expect Indominus to get all your commands right the first time. It will take some time for him to learn what you are telling him. The best way for him to remember your commands is to repeat them over and over until he gets them right. If you are impatient as he learns, it may put him in a bad mood and he will not learn as quickly. As long as you take your time teaching him, he will learn quickly and respond.
If there are commands that you do not use on all the time, like "Protect Me", then Rex may forget them and will need to learn them all over again.
Rex measures about 6.8-inches WIDE x 16-inches LONG and weighs just under 2-pounds.
This is an indoor robotic toy — dirt, gravel and grass can get trapped in his wheels and direct sunlight, whether indoors or outdoors can damage his sensors.
Rex should not be exposed to water or excess humidity. He can be wiped clean, as needed, with a very lightly dampened, scratch-free cloth.
Rex is officially licensed Jurassic World merchandise that is made outside the US and is imported.
He is recommended by Spin Master for Ages 5 and older.
Prices for this Jurassic World dinosaur robot have been determined by the supplier and not this review website.
Prices will change based on product popularity and availability.