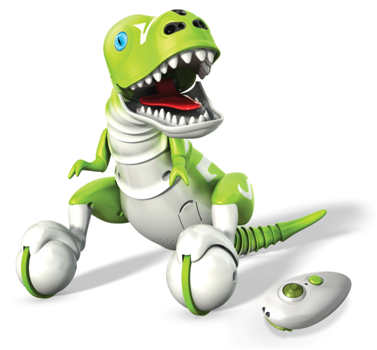 When it comes to a child's love of dinosaurs, the Zoomer robot dinosaur, aptly named "Dino", can provide hours of fun entertainment while also providing several developmental and educational benefits.
We might mention it also won the 2014 Toy of the Year Award for Best Innovative Toy.
In this review we will provide, in detail, all the features and facts of Zoomer "Dino" and what you can expect when purchasing this technologically advanced robotic dinosaur who comes with plenty of personality and attitude.
This is an interactive toy. Interactive toys introduce kids to a new companion or play experience. In the instance of a toy dog, cat or even a dinosaur, they develop a bond through learning how to train them and generally care for them through play.
The reason Zoomer's "Dino" is a fun option for dinosaur lovers is that Dino's interaction, personalities and responses to player commands, change and expand through your type of play — Dino is not completely predictable in his actions which makes time spent with him interesting and engaging.
Let's start with what's included in the box with purchase:
1 – Zoomer Tyrannosaurus Rex looking robot dinosaur toy named "Dino"
1 – USB Charging Cable for laptop or computer
1 – Wireless Remote Controller
1 – Instructions for Operation Guide
Features of the Zoomer Robot Dinosaur
Depending on the age of the person commanding "Dino", his features will make different impacts. Some kids or pets, may be frightened by his roar while others will laugh at his uncanny timing for farting and burping. Here's what we think are the features that add to Dino's fun factor:
Dino the Dinosaur displays different personalities — Happy, Curious, Angry, Gesture and Control Pod moods that develop based on type of play.
Each mood is expressed through sounds and color changes in Dino's eyes. Red = Angry, Yellow = Control Pod Mode, Purple = Hand Gesture Mode, Green = Happy and Blue = Curious.
An included wireless controller, with a joystick and buttons lets you direct Dino's moves rather than using hand gestures — the joystick on top of the controller lets you control Dino's head and tail movement or press it in conjunction with the "run" button to make Dino run around.
Press the "angry" button behind the joystick and Dino's eyes will flash red while he chomps and roars. Should Dino tip over during his "tantrum", pressing the "angry" button will also help him get up. Located just behind the "run" button is a "chomp" button where you can make him snap his jaws. When using the controller, his eyes will flash yellow.
Zoomer Dino was designed with the trademarked "True Balance Technology" which means he is perfectly balanced for navigating your flat surfaces on two wheels without tipping over (unless having a tantrum).
He can do some of the same physical moves you might expect from a dog like sit, wag the tail, cock the head, dance, spin in circles, chase, plus move forward and backward.
He has the ability to make some rather ferocious roaring, snapping and chomping sounds but also makes whining, whimpering and cooing sounds when he's happy.
Dino can be taught tricks and the more he is played with, petted and teased, the more he responds, turning into a true play companion.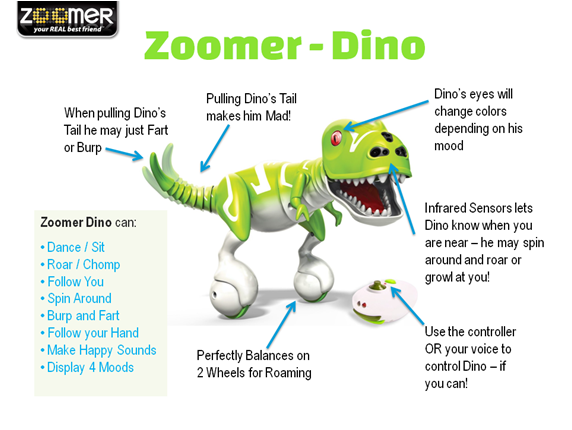 Facts about this Robotic Dinosaur Toy
The features are what usually grab somebody's attention and this is where product manufacturers focus much of their advertising. There are, however, facts about a product that buyers may appreciate knowing, up front, before buying. Here's what we think you may want to know about the Zoomer "Dino" toy:
The Zoomer Dino works best on smooth flat flooring surfaces or low pile carpeting
Playing with Dino on a table top runs the risk of him accelerating or spinning over the edge and damaging his electronics
His Control Pod operates on three (3) AAA-Alkaline batteries that are NOT included – rechargeable Lithium batteries should NOT be used per the manufacturer. All three (3) batteries are installed in the controller.
The Zoomer Dino body is charged through the included USB cable from a laptop or computer
Charge time is about one (1) hour and will provide about 30 minutes of continuous play before needing a recharge
Dino measures approximately 8.69-inches WIDE x 14.69-inches LONG x 10.19-inches TALL
He weighs just under 2 pounds and is recommended by the manufacturer for ages 5 and older
When using gesture commands, your hand needs to be between 4 and 6 inches from the sensors on Dino's nose
Dino will exit the gesture mode if there are no hand movements for 10 seconds or more or if you switch to the control pod
Dino may fall over if you move him too fast on a smooth flat surface — moving too fast may impact the built-in balance system
Dino is strictly an indoor dinosaur — dirt, grass or gravel can scratch his finish or get caught behind his wheels. Also, direct sunlight can affect his sensor operation and his ability to function.
Zoomer Dino should not be cleaned with water as this may damage his electronics. He can be wiped with a scratch free slightly damp cloth to remove dirt.
Zoomer the robotic dinosaur is made outside the US and is imported from China
 Why Zoomer "Dino" is a Cool Toy for Kids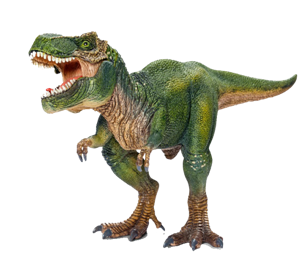 Dinosaurs may be extinct in real life but they are of major interest for young children. Kids are generally fascinated by monsters and dinosaurs were real monsters.
The fact that they are not make believe adds extra appeal for a child. Learning about dinosaurs not only lets a child confront the facts but helps them to conquer their fear of monsters.
Dinosaurs represent power, strength as well as other valuable skills or traits.
In their own way, the Tyrannosaurus Rex and the Triceratops were mighty giants who spent their existance battling for survival.
Their sharp teeth, fierce roar, and tough armored exterior appeal to kids because it allows them to live out their own fantasies of being powerful and being able to defend themselves through role playing.
The power of a child's imagination in partnership with the potential this dinosaur toy suggests, has no boundaries when it comes to adventure or learning.
Conclusion
Zoomer's Dino the Dinosaur is a fun toy for all ages. The different personalities displayed by Dino, based on mode of play, make this robotic prehistoric Tyrannosaurus Rex looking toy very engaging and entertaining.
Younger children will learn about dinosaurs, will see they are not necessarily the monsters to be feared and will develop the stepping stones to advanced skills in memory, problem solving, role playing, interaction, and coordination while having fun in the process. How can you put a price on that?
Overall, this toy makes for some serious family fun and is a reasonable value given Zoomer Dino's features and the broad range of people he will appeal to.
As one of the projected HOT toys for this holiday season, the price will undoubtedly change based on product availability and popularity. The price has been determined by the supplier and not this review website.