Your little pet lover will have a rich, engaging experience with their own magical dragon from Hasbro with this FurReal Friends, My Blazin' Dragon named Torch.
This super-friendly, pretend fire breather will delight young care givers with over 50 combined sounds and motions making them believe this dragon baby has really come to life.
In this review we will share with you exactly what makes this not-so-little plush dragon baby special and how easy it is to care for him.
What's in the Box?
When you purchase FurReal Friends My Blazin' Torch you receive the following:
1 – Powder Blue FurReal Baby Dragon
1 – Pretend Marshmallow Treat on a Tree Branch Stick
1 – Magic Water Fill Crystal
1 – Extra Water Filter for Flame Mist Tank
1 – Instruction Manual
FurReal Dragon Baby "Torch" Features
This light blue baby dragon has wide expressive eyes with thick eyelashes, a face with the look of trust and innocence and an engaging smile that offers just the slightest hint of mischief.
His big floppy ears, trimmed in flame-colored fur are alert and wiggle with emotion.
FurReal Dragon Torch has the underdeveloped wings of a baby dragon, large paws with developing rounded claws — that suggest some day he will grow to be large — plus a soft plush tail tipped in flame colored fur and dotted with rounded tip spikes.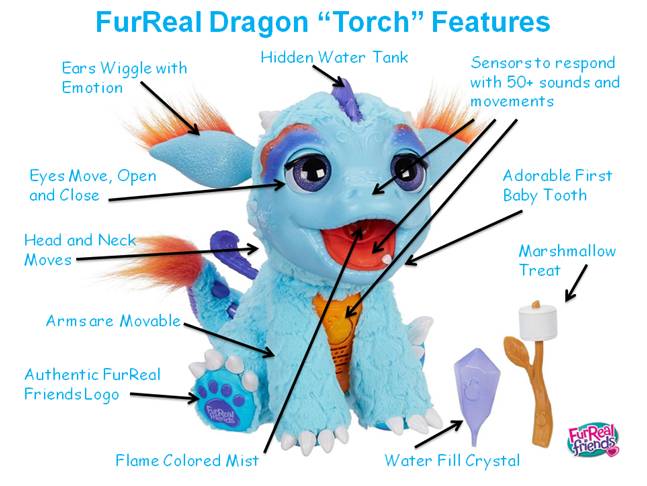 FurReal Friends Dragon Torch has sensors in his nose, on his tongue and on the charm around his neck. These sensors help Torch provide the 50 plus sound and movement combinations that make this little plush dragon magical.
Stroking his nose provides surprise head movements, eye movements and sounds in response to your touch.
Press the charm located around his neck and a flame-colored mist comes out of his mouth — hinting at the flame breather he would like to grow up to be.
Put the marshmallow treat in his mouth, lightly pressing on his tongue, and hear Torch make chopping noises.
Put the marshallow near his mouth and see the marshmallow get "toasted", changing color from his flame-colored mist.
Wrap his fully poseable front legs around your neck because he really likes to give and to get hugs.
Brush the flame colored fur on his ears and tail to keep him groomed and looking great.
Hasbro FurReal Dragon Torch Use Guide
This adorable little dragon measures 14.7 x 14.0 x 7.9 inches and weighs about 6 pounds with batteries installed. He is recommended by the manufacturer for AGES 4 and older due to small parts. It is HASBRO Model Number B5142.
Torch needs four (4) size "C" alkaline batteries to operate all his features. These batteries are NOT included and must be purchased separately.
The battery compartment is located on the underside of this plush dragon toy and is accessed using a Phillips head screwdriver provided by you. There is also an ON-OFF switch in the same location.
To get the flame colored mist, a tiny water tank is located on top of Torch's head. The purple water fill crystal, with a fill line and included with the toy, is used to fill the water reservoir on his head. If the water crystal is ever lost or misplaced, 1 to 2 TEASPOONS of water will work. Overfilling the tank will cause water to bubble out of the top of Torch's head or his mouth.
For best results,

distilled water

should be used as ordinary tap water contains minerals and chemicals that can clog Torch's filter causing the flame-mist to not operate at capacity. Distilled water must also be purchase separately.
The water tank may be removed, drained, rinsed and dried if this baby dragon is not going to be used for a while. The water filters may also be cleaned and re-used.
FurReal Friends My Blazin' Dragon Torch should not get wet or be exposed to direct sunlight for any length of time. If Torch becomes dirty, just use a brush or a clean cloth to remove any soil. Do not use spot cleaners or detergents on his fur.
Plush Interactive Dragon Toy Benefits
This baby dragon from FurReal Friends comes with some educational and developmental benefits for younger children. These benefits are the building blocks for the advanced skills used later in life.
My Blazin Dragon Torch will make your child curious enough to want to discover all this interactive plush toy can do.
Problem solving is one of the benefits they will gain by learning how everything works through the activity of play. This will then help them to remember what they needed to do for specific features to work when they play the next time.
As a child learns and remembers each feature, they will become more independent in play.
This baby dragon will also inspire nurturing skills and role-playing where your child will develop their own stories with their new interactive companion — imagine a make believe world where Torch lives in a magical forest or in a crystal cave and your little caregiver explores a variety of scenarios and outcomes in the role they create for themselves in a new world.
Conclusion
Dragons are a much-loved mythological animal that are gigantic, powerful snake or reptile-like creatures — and this interactive pint-sized, non-scary, huggable plush version makes owning one pure magic for a child.
Overall, the sound combinations with the movements give this baby a lovable personality together with the bonus flame mist feature that will capture the heart and hold the attention of any young caregiver.