This adorable little interactive plush Panda toy named "Pom Pom" is from Hasbro's FurReal Friends series of electronic robot pets.
In this review, we will take a look at Pom Pom's features and why this interactive plush panda bear might be a nice toy for that little bear cub lover in your home.
We will also take a look at the facts surrounding purchase of this FurReal Friends toy and what benefits you might expect through play.
Why We Like Pandas
This stuffed, plush little panda bear reminds us of why we like pandas. In addition to the fact that they are cute and cuddly, they are also different from other bears, like the brown, black and polar bears and it's this difference that draws people to them.
When compared to other bears, Panda bears like to sit upright on their hindquarters while munching on a stalk of bamboo — holding their food in an almost human-like form. Their unique look is enhanced by fuzzy black ears and black circles around their eyes rounding out their unique two-toned appearance.
Pandas just look huggable (rather than intimidating like bear other species) inspiring a nurturing instinct in all who love them — from their flat face to their large expressive eyes and their seemingly clumsy nature makes them seem almost baby-like.
What's in the Box?
Pom Pom possesses these cute characteristics, with movements and sounds that will delight any child who adds this little cutie to their play environment.
Let's start with what you get in the box with purchase:
1 – Adorable My Baby Panda Pom Pom Toy
1 – Panda-style Baby Rattle
1 – FurReal Friends Bamboo Green Baby Bottle
1 – My Baby Panda Instruction Manual
4 – AA Alkaline DEMO Batteries
FurReal Friends Pom Pom Plush Panda Features
This little electronic plush panda bear has all the features you would expect to find in a baby animal that needs attention and nurturing. From the adorable features to the 45+ baby sounds, responses and movements, this little girl panda will hold your attention and is a precious playmate.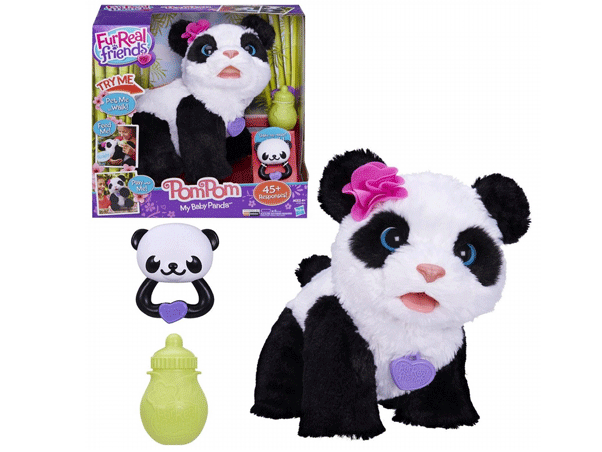 Here are some of her more notable features:
She can talk to you in sweet "Panda" language in any play mode.
Pom Pom's head and legs are completely posable into your favorite positions. She can also mechanically move her arms and legs in a sitting, standing, laying position or on all fours.
This FurReal Friend can interact with the other FurReal Friends like Get Up and GoGo My Walking Pup (sold separately). They can talk back and forth in panda, puppy or other languages depending on the FurReal Friend.
Petting Pom Pom's back, while on a flat surface like a table or floor will start her walking.
You can feed her while she is standing or while you are holding her on her back like the baby she is. On her back, she will "Coo" and kick just like a baby.
She has over 45 different sounds and responses to physical and voice actions during play.
Shaking her rattle, when she's in the awake mode, will make her speak panda language and walk toward the sound of the rattle.
If Pom Pom sits without any activity for a few minutes, she will go to sleep. To wake her, just pet her back.
Just like any baby, she will make noises to get your attention and responds to voices in addition to her rattle.
For being a mechanical toy she is still very plush, super soft to the touch and huggable.
Don't be surprised if you hear "Hiccups" after she eats and gentle snores as she sleeps!
Sounds and responses are released during play and not all sounds are available initially. Play unlocks additional sounds.
FurReal Friends Interactive Panda Pom Pom Facts
Before purchasing any toy, it helps to know what it will take to assemble, operate and maintain that toy before you buy. Here's what we think parents should know before purchase:
Pom Pom My Baby Panda is recommended by the manufacturer for Ages 4 and older.
She is officially licensed Hasbro FurReal Friends merchandise that is made for Hasbro outside the US and is imported from China. Because Hasbro uses different vendors for producing their merchandise, there will be slight variartions in color and appearance from what you see in the image.
The My Baby Panda toy has a "Demo" mode and a "Play" mode. The toy comes set in the "Demo" mode for in-store purposes and not all features are active in this mode. Turn the switch from "Demo" mode to "On" for full features in home use.
FurReal Friends Pom Pom panda requires four (4) AA Alkaline batteries to operate. She comes with four (4) AA Alkaline DEMO batteries that are used for in-store purposes. Fresh NEW batteries should be purchased separately for all of Pom Pom's features to operate correctly.
Because this is an electronic, interactive toy is is not machine washable. Pom Pom, however, can be cleaned with a slightly damp cloth. Before using a damp cloth, brushing Pom Pom's fur first, will remove surface dirt.
Loud background noises like a television may impact Pom Pom's ability to hear commands and respond.
Pom Pom measures 6.7-inches WIDE x 7.1-inches LONG x 11.9-inches HIGH
She weighs about 1.5 pounds with batteries installed
The only assembly required is installation of the batteries in a compartment accessed by a screwdriver.
Conclusion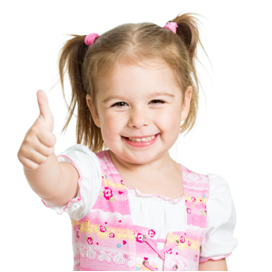 This talking stuffed little panda bear, who, at the shake of a rattle comes running for some attention is an adorable companion for any small child.
She responds to voice commands and has a unique personality all her own. While the manufacturer recommends Pom Pom for Ages 4 and older, younger children will still enjoy her as well.
My Walking Panda from FurReal Friends brings benefits in this interactive play. Your child will gain in:
Role-playing as a care giver
Problem-solving in learning how to use functions and features
Memory development in retaining play sequences
Coordination in posing Pom Pom's legs and head and feeding Pom Pom
Will gain confidence and independence as they get comfortable with the toy and its features
Rewards when they see this interactive toy respond to their commands
The fun factor and educational significance this can have for a child makes this toy a great value and will ensure hours of play.
Prices for this FurReal Friends interactive panda bear toy have been determined by the supplier and not this review website. Prices will change based on popularity and availability and is already slated to be a hot seller for the holidays.