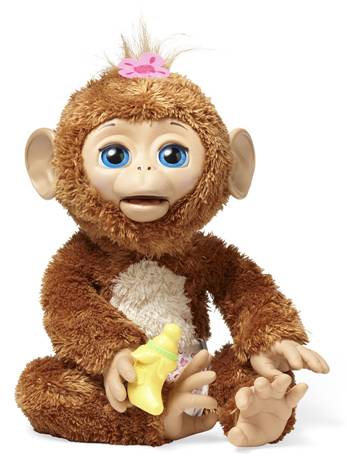 This FurReal Friends plush monkey named "Cuddles" is an interactive nurturing toy for want-to-be little pretend mommies or daddies.
From Hasbro's FurReal Friends series, "Cuddles My Giggly Monkey" has all the interactive actions and sounds you would expect to find in a baby monkey with some positive upside in valuable lessons learned through play.
Our review will detail the features of Cuddles and what makes this little plush toy so adorable for Ages 4 and older.
We will also take a look at the facts for parents when owning this FurReal Friend as well as the benefits you can expect for your child.
Let's start with what's in the box when buying Cuddles — you get:
1 – Cute Plush Monkey Pet
1 – Diaper for Changing, similar to Baby Alive doll diapers
1 – How to Care for Cuddles Guide
1 – Bright Yellow Banana Shaped Baby Bottle
Features of Interactive Cuddles the Monkey
Who doesn't love a plush pet that is soft, cuddly and gives giant hugs? Huggable Cuddles is just the right size for young pretend mommies (or daddies) to hold, play with and care for without being awkward to handle or too heavy. Here's what we think makes this plush toy so special: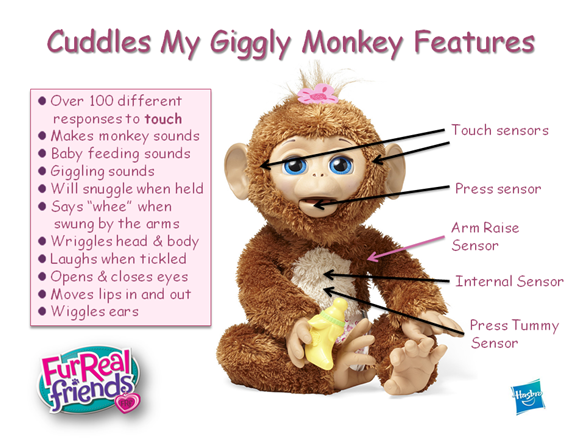 This little FurReal Friend is the lifelike size of a baby monkey with the real nurturing needs of a baby. It is not a plush toy that is going to do tricks or dance and sing as in other interactive toys like a robot dog. This interactive baby animal toy needs feeding, changing, hugs, tickling and rocking to sleep like other babies and is for smaller children that want to  be a pretend mommy or daddy.
Cuddles will make sweet baby noises when waking from sleep or a nap and will recognize that a child is near. In fact, Cuddles will lean in for hugs when being held.
When drinking from the included banana shaped baby bottle, this little FurReal Monkey will make real sounding slurping noises moving its lips in and out as if really sucking on the bottle. She cannot feed herself but can hold the bottle in her hand.
Playing with Cuddles is just as fun as feeding Cuddles. Swing Cuddles around in the air and this little plush toy will respond with giggles and will say "Whee!".
Cuddles is also quite ticklish — tickle her tummy and she'll respond with fits of giggles and laughs.
After play any baby would get tired and this little interactive ball of fur needs a nap or some sleep too. Gently rocking her lets her know her it is time to go to sleep and she will gradually, slowly close her eyes.
As with any baby, Cuddles has her own personality and at times can be fussy, letting you know you are not paying her enough attention. She will move her head back and forth and make sounds to show you she wants more of your time.
Facts about FurReal Friends My Giggly Monkey
While kids love the features of a new toy, parents are just as interested in the facts about that toy. It helps to know before buying, what it takes to assemble, operate and maintain that toy and what the warranty is as well. Here's what we think you may want to know before deciding to buy:
The color for Hasbro's FurReal Friends "Cuddles My Giggly Monkey" may vary from the one pictured in this review. This plush toy is made for Hasbro by different vendors located outside the US and is imported from China so the fur colors will vary by vendor.
This little interactive baby monkey requires four (4) C-Type Alkaline batteries (NOT included) so all features operate correctly. The battery compartment is accessed with a Phillips head screwdriver from the back of the toy. The toy's ON and OFF switch is in the same location.
The FurReal Friends "My Giggly Monkey" measures 7.4-inches deep x 15.4-inches wide x 15.8-inches tall and weighs just over 3 pounds — with batteries installed.
Cuddles is not machine washable because she is an electronic toy. She can be spot cleaned with a soft damp cloth but rubbing too vigorously should be avoided. Gently brushing her fur will remove a lot of surface dirt or stuck on food.
Hasbro offers a 90-day warranty for Cuddles through Tiger Electronics, Ltd. The warranty is valid for the original purchaser for any defects in materials or workmanship. Tiger Electronics may choose to repair or replace a defective Cuddles at their discretion and through one of their approved service centers.
The sensor under Cuddle's left arm senses movement for play or for swinging. If trying to put Cuddles to sleep, make sure her left arm is at her side. If her arm is hanging down, she will be confused and not know she is supposed to go to sleep.
Very active play means it will take Cuddles a long time to wind down to go to sleep. Patience is key until all features are learned.
If this little monkey sits without any activity for a minute or longer, her eyes will close and she will doze off — touching any of her sensor areas will wake her up.
Should Cuddles diaper become dirty through play, it can be easily replaced with Hasbro's Baby Alive doll diapers.

Benefits in Playing with Cuddles
Cuddles is more than just a stuffed monkey and owning this interactive toy will positively influence your child's development through play.
Because this is a nurturing toy, it will teach your child awareness in recognizing all the sounds Cuddles makes and what they mean.
It will teach empathy in caring for Cuddles when she is hungry or wanting attention.
It will inspire imagination in the role of pretend mommy or daddy as well as in role-playing.
Curiosity and discovery are learned in fully understanding and enjoying all of Cuddles features.
Patience, respect and quiet are all skills that will develop through role playing and using each feature.
One of the biggest benefits is confidence, developed through learning the features and becoming independent in their use.
Conclusion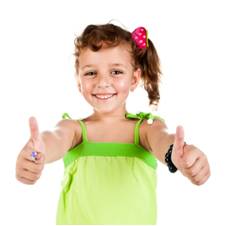 This interactive toy monkey is for any young child who loves small animals, stuffed animals and baby dolls.
The fact that Hasbro's My Giggly Monkey interacts and responds during play and needs care just like any small animal or baby gives younger children the ability to act out and mimic what they may have already seen in the home.
Unlike other interactive toys, the features are not too complex to learn but the rewards for a child who learns to nurture and respond appropriately to the toy's features are priceless.
This is not a toy that will perform tricks, have funny sayings, or have flashing lights like others on the market but is in a class all its own.
It was one of the hottest toys for Christmas 2013 and has come down in price since last season making this a great value for this style of play.
Pricing has been determined by the supplier and not this review website. Pricing will change based on availability and popularity.