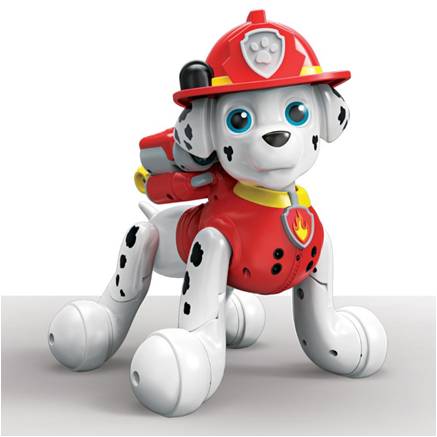 Straight from international interactive play giant SpinMaster comes Zoomer – Marshall, the adorable "safety first" robotic firehouse dog programmed with 150 plus Nickelodeon Paw Patrol phrases and sounds and 80 special missions and tricks.
Our review will share with you all the details that make this Paw Patrol civil servant truly a special interactive play pal and companion.
Dalmatians, the traditional firehouse dog for more than a century, were initially used as a distraction for the horses of horse drawn fire engines, keeping the horses calm around burning blazes. Years later, Dalmatians would guard the fire trucks and the firemen's belongings as they battled blazes.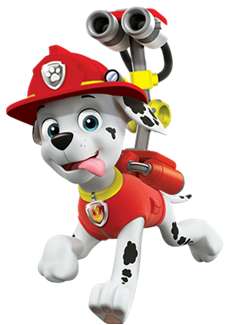 Zoomer's Paw Patrol Marshall honors the tradition with this robotic dog toy and has modeled him after character "Marshall", the Nickelodeon Paw Patrol team's brave firedog – an overly excitable, very active, Dalmatian pup who is always ready to roll.
When you play with Zoomer Marshall,  you will have a lot of fun with his features and going on Paw Patrol missions but younger children playing with Marshall will also gain important educational and developmental benefits as well.
These benefits are outlined farther along in our review.
What's in the Box?
1 – Cute Dalmatian Zoomer Marshall Robot Puppy
2 – Blue Water Cannon Missiles
1 – Reference Guide in case you forget one or two of his many features
Robot Firehouse Dog Zoomer Marshall Features
If you are a first time buyer of a SpinMaster interactive toy pet, know that Zoomer Marshall is a robot Dalmatian dog that will interact with you just about the same way a real puppy does. Marshall will be excitable, will run around, get into things, perform some amazing rescues while on missions, do tricks and in return will expect plenty of attention and love from you.
Nickelodeon themed Paw Patrol Marshall will not need trips to the vet, get into your trash, pee on your floor, shed hair on your furniture or chew up your newspaper .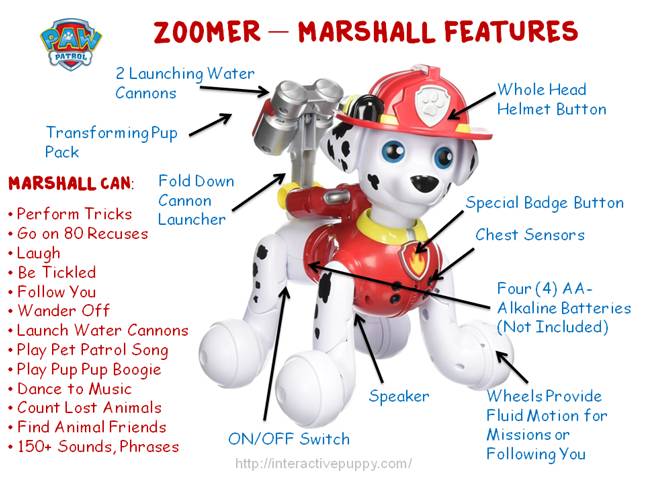 Here's are the features that make Zoomer Marshall special:
Zoomer Paw Patrol Marshall gets his energy from four (4) AA-Alkaline batteries (not included) that are accessed by using a Philips head screwdriver to remove the door on the battery compartment located under his belly.
Fully charged, you turn Marshall's operating switch to the "ON" position and press his head button (fire hat) to wake him up. Zoomer Marshall will respond to the sound of your voice as well as hand gestures. Press down on his head for "Pup Mode" and press the special fireman's badge on his collar to go into "Mission Mode".
He comes pre-programmed with over 150 sounds and phrases and 80 missions you might expect to see on Nickelodeon's Paw Patrol series. For example, some of the missions include:

Using water cannons to put out fires
Finding animal friends from Paw Patrol
Finding and counting lost animals
Using water cannons to keep animal friends happy
Helping Marshall get the highest score on the Pup Pup Boogie game

His interactive missions start by providing direction to his new owner i.e., "I found some adorable little turtles and they look thirsty." OPEN up my PUP PACK to activate my WATER CANNONS and give them some water to drink.
Included are two (2) water cannon projectiles has may be fired from the fold down water cannon launcher Marshall's back. (No real wet water is needed or used.)
Paw Patrol Zoomer Marshall understands English and French. Select your preferred language via a switch located at his belly, next to the ON/OFF switch.
This Zoomer Dalmatian puppy will also perform tricks, will dance, laugh when you tickle him, sing songs, "high five" you, scoot around on his own to check things out plus much more.
Zoomer Marshall is a smart firehouse dog because his sensors allow him to navigate corners and tight spots by backing up and re-adjusting his direction so he will not get stuck.
Zoomer Marshall Facts for Parents
Other than installing the four (4) AA-Alkaline batteries, purchased by you, Zoomer Marshall is ready to roll right from the box with no other assembly required.

You can easily tell when his batteries start to get low because he will give you a big "YAWN" and say "I'm sleepy".
This Zoomer robotic pet comes with an adjustable volume control on his bottom.  Move the switch to the MIDDLE POSITION to reduce volume by 50% or move the switch to the "OFF" position for no sound.
Commands are best understood when hands and your voice is kept within a specific range — that is, no longer than half the length of Zoomer's body. This means approximately 4 inches in front of and side to side of his body.
Firehouse dog Marshall measures about 14 inches LONG by 12.5 inches TALL by 9.5 inches WIDE and weighs about 9 pounds WITH batteries installed.
This is an indoor interactive robot puppy ONLY — dirt, gravel and grass can get trapped in his wheels and direct sunlight, whether indoors or outdoors can damage his sensors.
Because Paw Patrol Marshall is an electronic toy, he should not be exposed to water or excess humidity. He can be wiped clean, as needed, with a very lightly dampened, scratch-free cloth.
This Spin Master robot Zoomer puppy is made outside the US and is imported from China.
He is recommended by Spin Master, as is a pre-school friendly toy for Ages 3 and older.
Benefits of Interactive Play with Zoomer Marshall
For younger kids this little robotic firehouse dog will provide a few benefits, during play, that will work as building blocks for more advanced life skills.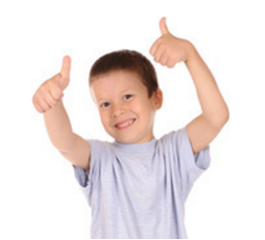 Since operating Paw Patrol Marshall requires a number of steps be performed in sequence and over a period of seconds, this will help a young child with counting. Young owners also will help Marshall count during interactive missions. This helps in developing memory as recall is required to repeat favorite features.
Problem solving comes into play when features do not operate as planned the first time a command is given. It may be because the child did not speak clearly or is too far away from Marshall's sensors or there is background interference that keeps Marshall from responding. Learning how to work around immediate issues will enhance problem solving skills.
Because there is a learning curve associated with any new toy, a younger child will learn to become more independent and confident in Paw Patrol Marshall's operation as the child becomes comfortable with giving commands.
Then there are the rewards and the pride a child feels when this little firehouse dog responds happily to their request — how can you put a price tag on that?