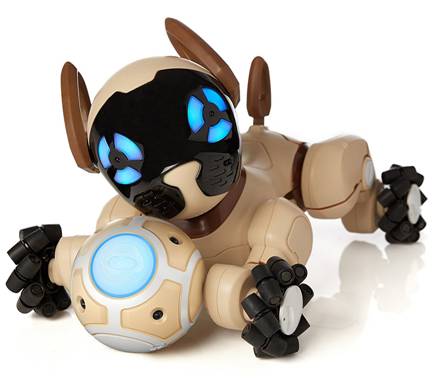 The WowWee CHiP robot puppy now comes in colors of that classic favorite — the lightly browned edged, soft and chewy chocolate "CHiP" cookie.
His warm and cozy colors are just a bonus to the extraordinary number of features that make this robot puppy pal an amazing gift to yourself or someone special.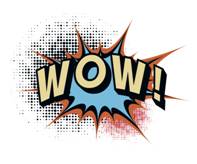 Our detailed review will highlight some of the special features that make CHiP unique and in our opinion, one of the best robotic dog toys (for people) on the market today.
We will also share the facts surrounding ownership so you can decide if WowWee's Chocolate CHiP is the right special companion and play pal for you.
To begin, CHiP is more than just a robotic puppy toy, he is actually three (3) separate electronic devices that work in concert with each other to provide an amazing user experience — this more than justifies what some might consider, an eyebrow raising price tag.
What's in the Box?
1 – WowWee Chocolate CHiP Smart Robot Dog
1 – CHiP Play SmartBall
1 – CHiP Wrist SmartBand
1 – CHiP Docking SmartBed
4 – Wheel Guards
8 – Screws (for wheel guards)
1 – AC/DC power adapter
1 – USB Charger cable
1 – Detailed Instruction Manual
1 – Quick start guide
Chocolate CHiP Robot Puppy Features
This is an adorable, playful pooch that is Bluetooth Smart and enabled with advanced "BeaconSense®" and "GestureSense®" technologies. This technology helps CHiP learn through voice commands, touch and hand gestures what makes you happy so he can please you with tricks, animations and favorite behaviors each time you play.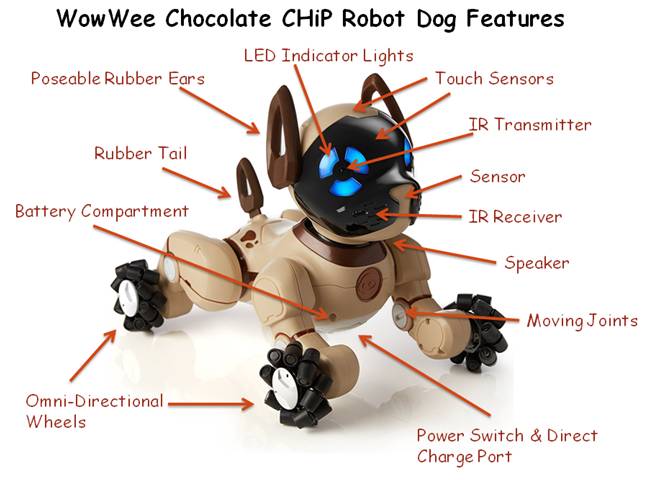 His omni-directional side-winder designed paws provide unprecedented mobility for travel in all directions and in even the most limited of spaces. The rollers in his paws rotate freely providing movement, in the direction of your choice, for performing some clever tricks and some club worthy dance moves.
Like any puppy, this playful pet loves to explore, craves attention, needs lots of love and sometimes a little discipline! He will bark, whine, pant and chomp when eating. His head and eye expressions let you know when he is surprised, happy, hungry, sleepy, dizzy, excited or a little aggravated.
He comes programmed with speech recognition technology allows this puppy pal to respond to his name and a list of your voice commands.
His INCLUDED SmartBed is a docking station where CHiP recharges his battery. This little robotic puppy knows when his battery starts to run low and he will go, on his own, back to his SmartBed and plug himself in when he needs a recharge. His eyes will turn purple when his battery starts to run low.
Robot CHiP will play soccor and fetch with his SmartBall and will sit, stand, dance to his favorite song and pull some pretty impressive yoga poses.
The INCLUDED SmartBand lets you control Chocolate CHiP using the "CHIP" button that operates similar to a joystick. Press a button on the SmartBand when you see CHiP do something you like and he will remember it. Press another button and he will stop what he's doing and come right over to you.
In addition to voice, gesture and SmartBand commands, this robot puppy may also be controlled through the FREE CHiP App downloaded to compatible smart devices that feature Bluetooth Smart technology. This greatly expands his tricks but also gives you the ability to check CHiP's level of energy, appetite and happiness. Control his movements through your Smart Device as well as reward him with a number of different snacks and treats when he performs well. The app is compatible with both iOS and Android devices as noted below:
♥  iPhone, iPad and iPod touch running iOS 9 or later
♥  Phones and Tablets running Android 4.4.4 (KitKat) or later
♥  All devices must support Bluetooth Smart (BLE)
CHiP Robotic Puppy Facts
CHiP is a non-gender puppy who may be programmed with a different name through the FREE CHiP App to suit its new owner.
He measures 15.0 inches Long x 8.7 inches Wide x 11.8 inches Tall and weighs about 2 pounds. He is recommended by the manufacturer for Ages 8 and older due to his interactive operation and many features.
CHiP is strictly an indoor puppy pal and is not suited for outdoor use. Bright sunlight or Ultra-Violet light can interfere, temporarily with his functions.
The programmed BeaconSense™ technology gives this playful interactive puppy situational awareness, that means he can sense his surroundings and know where he is in relation to them. The programmed GestureSense™ technology allows CHiP to respond to gesture-based interactions like swipes, claps, touching, petting and more.
Chocolate CHiP comes with one (1) INCLUDED 7.4V 1800 mAh Lithium-ion rechargeable battery — the same type of battery used in digital cameras.
CHiP's SmartBand operates with one (1) INCLUDED 3.7V 130 mAh Lithium-ion rechargeable battery.
He also requires four (4) AAA Alkaline batteries for his SmartBall that are NOT INCLUDED.
This robotic puppy can best respond to commands if he is within 10 feet of his SmartBall and SmartBand. He may get confused if either of these two are farther away.
The SmartBall comes equipped with a number of IR sensors so that CHiP can find it easily. You can safely roll the ball, even on a hard surface and CHiP will chase after it, find it and return it to you over and over again. He will also play with his SmartBall on his own without any commands.
This smart little Chocolate CHiP comes with four (4) different ENERGY SAVING MODES:
IDLE MODE means if you do not give CHiP any attention for 2 minutes, he will try to get your attention — ignore him for 10 minutes and he will explore on his own. After 30 minutes, he will go into Standby mode.
STANDBY MODE happens after 30 minutes of no attention from his owner. He will lie down and not make any sounds until you give him a command to play.
CHARGING MODE happens when CHiP's battery level is at 10 percent or below. His eyes will turn purple and he will look for his SmartBed, on his own, to recharge OR you can send him there through the SmartBand.
SLEEP MODE happens when you are not around or not at home and CHiP goes to sleep. This keeps him in a low power consumption state to keep his battery from overcharging. He may however, in true puppy form, leave his bed for only a short distance if his battery is fully charged!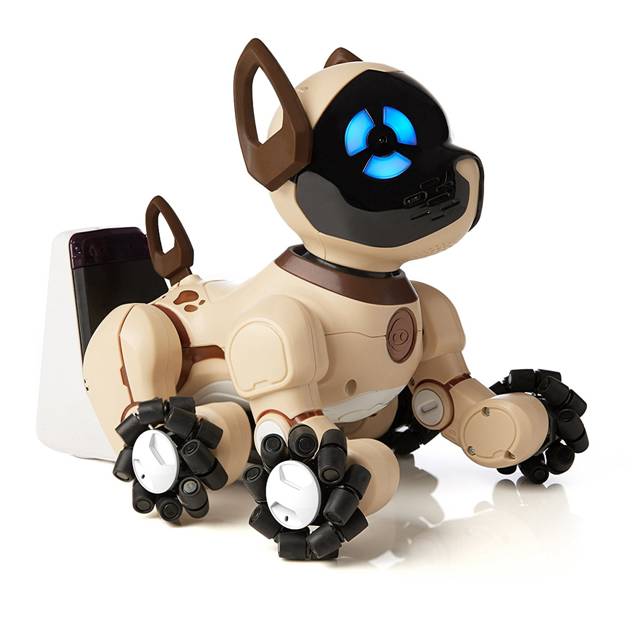 WowWee Robot Puppy CHiP Warranty

WowWee Group Limited ("WowWee") will warrant to the original purchaser that this Chocolate CHiP Robotic Puppy will be free from defects in materials and workmanship (under normal use) for a period of 90 days from the date of retail purchase.
If within the first 30 day period a defect should arise, the product should be returned to the original place of purchase with proof of purchase for a refund or exchange.
If after the first 30 days, the original purchaser should contact WowWee Customer Service to arrange for a product replacement. If CHiP is not available, then WowWee will replace the product with another of an equal or greater value.