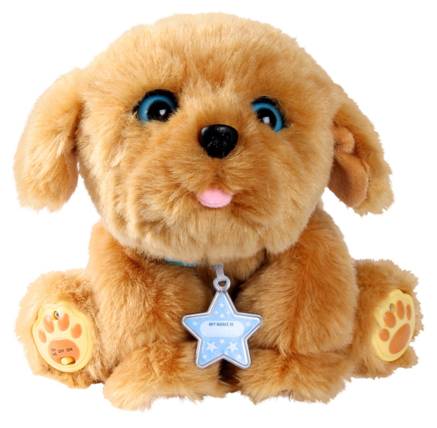 There is no shortage of "awwww" when little arms wrap around My Dream Puppy Snuggles from Little Live Pets. The lovable ball of fur, available in a playset, will light up the eyes and swell the heart of any plush puppy lover.
In this review, we will share with you all the features that make Snuggles so adorable and why this furry little friend and companion will absolutely delight whoever gets this as a gift.
Little Live Pets Snuggles My Dream Puppy Features
This puppy possesses all the qualities that releases the nurturing instinct in our brains called "baby schema". It's impossible to resist Snuggles' large limpid blue eyes, the adorable expressions, the fluffy fur, round body, chubby cheeks and bobbing head — all the triggers that make this puppy so cute.
Cuteness, combined with the features programmed into this interactive puppy, make this plush toy worthy of that special little someone in your household. Here's what makes Snuggles so special: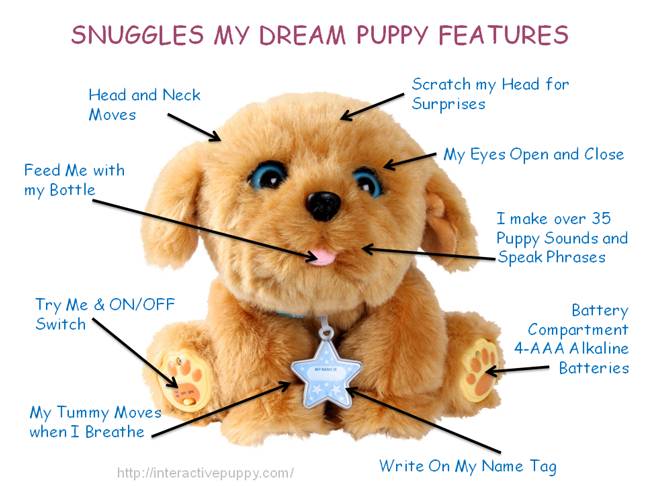 This Little Live Pets interactive puppy Snuggles comes with an Adopt-A-Friend official Adoption Certificate stating whoever is lucky enough to get him promises to love and take care for him, feed him, play with him every day and give him a loving home.
Snuggles makes all the sounds you would expect in a puppy — whimpering, bottle feeding, nuzzling, barking, panting, sniffing, snoring and even an occasional burp when he is fed from his included baby bottle. Give him a lot of extra love and he will speak phrases like "I Ruff You" — a total of over 35 sounds in all.
Those large expressive blue eyes open and close in response to pats, head scratching, belly rubs and petting in addition to slowly closing as this little fur ball falls asleep.
When he sleeps, you can't miss his tummy rising and falling — perfectly matched to the breathing in his gentle slumber.
Just like any real puppy, put something up to his nose like a toy or a ball and this curious little guy will sniff it in anticipation of play with his adoptive owner.
If you leave him alone or when its time to eat, sleep or play, Snuggles will move his head and his eyes while making the sounds that tell you just what his needs are.
Connect this Little Live Pet to the FREE app. There you adopt your own virtual puppy where you can feed, clean, play and accessorize him while playing mini-games to level up, earn coins and unlock surprises. The app requires iOS 6.0 or later and is compatible with iPhone, iPad, and iPod touch. Android devices need a 2.3 or higher operating system.
Little Live Pets Snuggle Specifications and Facts
Snuggles is just the right size and weight for smaller hands and arms to cradle and to tote around. This plush interactive puppy measures 11.8 x 9.8 x 7.8 inches and weighs about 1.5 pounds with batteries installed.
This puppy comes with a baby bottle for feeding, a set of operating instructions, an identification tag and an official adoption certificate. He arrives in cute puppy crate design packaging.
Little Live Pets Snuggles requires four (4) AAA-Alkaline batteries for all the features to operate correctly. Batteries ARE included, however, these are not full strength batteries and are used for in-store demonstration purposes. Fresh AAA-Alkaline batteries should be installed. Rechargeable batteries are not recommended by the manufacturer.
The battery compartments are located in Snuggle's rear feet with two (2) batteries installed in each paw and accessed using a Phillips head screwdriver provided by you.
He has switched "Try Me", "Off" and "On" modes located on his right paw.
Snuggle's paws do not move and he does not walk — this little interactive puppy is for snuggling, naps, cradling, scratching, petting, talking to, reading to and feeding.
Because this plush puppy has electronic features, Snuggles should not be exposed to water or moisture. If he needs cleaning, it is better to brush his fur or use a slightly damp cloth to remove any soil.
He should also not be exposed to direct sunlight for long periods of time as this may damage his features and fade his rich cinnamon toasty color.