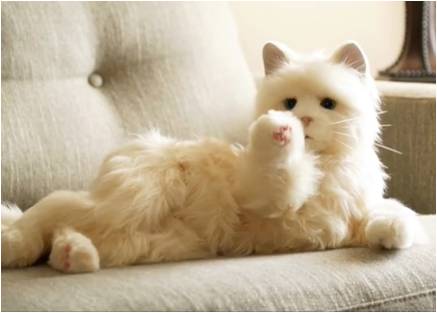 This fluffy little interactive robot cat from Hasbro's "Joy for All" collection is a lovable companion for anyone wanting a pet but without the ability to care for a real one.
Our review will tell you why this will appeal to younger children, but would also be a great companion for someone with allergies, special needs, bed ridden, suffering from alzheimer's or dementia, lives alone or any situation where an engaging pet can provide welcome distraction and comfort.
The companionship a pet can provide is invaluable. A pet, as in this huggable white cat interactive toy, can:
aid in preventing loneliness
will engage its caregiver
can be something to come home to
will make a nice travel companion
works well with its owner's schedule
Unlike a real pet, this fluffy white kitty plush toy is easy to care for, does not require feeding or trips to the vet and responds warmly to hugs, belly rubs and a little love. We've detailed her features below as well as how easy it is to own her.
Hasbro Joy for All Cat Features
This cute white kitty with the pert pink nose and bright blue eyes is just waiting to be scratched behind the ears. White cats are traditionally very friendly cats and some consider them lucky — whether they are loving and calm or outgoing and busy, Hasbro has done well in capturing these qualities in their design.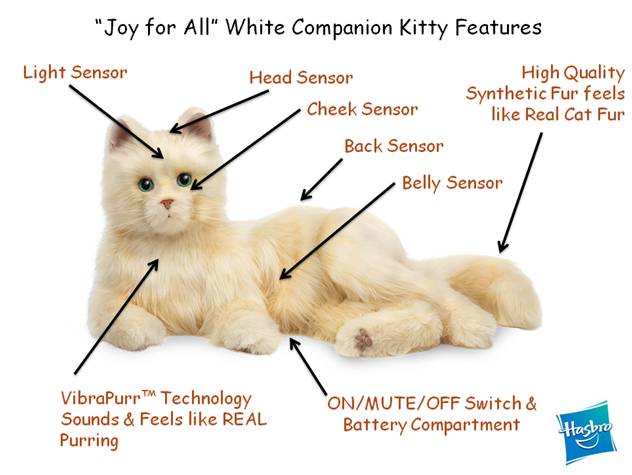 What you notice first about this friendly feline is an appearance that says "I'm cute, alert and curious". This domestic long-haired kitty has fluffy creamy white fur with bright blue eyes and pink button nose. The super soft fur was inspired by real feline breeds in its design.
There are 5 sensors located all over this white kitten companion, each providing a different response to the care giver when petted and creating a personalized experience with actions in response to its environment.
As with a real kitty, petting her cheek will cause her to move her head towards your hand in an "I want more" gesture.
Petting her head and back will be rewarded with happy purring sounds. She is has been designed to include VibraPurr™ which is the technology that produces realistic cat purring and vibration sounds.
Continuous petting will make this Hasbro Joy for All Companion Pet roll on her back for a very welcome belly rub and the more you pet her, the more relaxed she becomes. She may even close her eyes in delight like she's contemplating a snooze or she will lick her paws as real cats do.
If you leave her be for a few minutes, she really will go to sleep. You can wake her easily by giving her a gentle pat on the back.
Hasbro's white companion cat will move her head, ears, neck and front legs in response to a care giver. She does not walk.
Creamy White Hasbro Companion Pet Facts
Hasbro Companion Pets are easy to own, require no assembly and are easy to play with and care for. Here are some of the facts associated with ownership.
This fluffy white interactive kitty companion measures approximately 9x15x10 inches and weighs about 3.5 pounds with the batteries installed. She is ready for play right out of the box.
She is recommended for Ages 5 and older.
Included are the four (4) 1.5V size "C" Alkaline batteries it takes to operate all her features. The battery compartment is located under a Velco taped section of her belly. The battery compartment is accessed using a Phillips head screwdriver provided by you.
The battery compartment also contains an ON/MUTE/OFF switch. Choosing the MUTE option will silence kitty sounds but not her movements.
She is covered in a high quality synthetic fur fabric and does not have real cat hair. Because she contains battery operated features, she should not be exposed to direct sunlight, damp conditions or water.
To clean her fur, gently brush any soiled areas or use a slightly damp cloth. Do not use any detergents, solvents or cleaners on her fur.
Included with purchase is one fluffy white colored Hasbro Companion Pet, 4 installed batteries and 1 Joy_For_All_Care_Guide.
Conclusion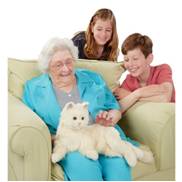 This fluffy white robot cat from Hasbro really is for ANYONE who loves cats and is unable to care for a real one.
Not only will this kitty appeal to young cat lovers, but would be a great companion for someone with allergies, who has special needs, may be bed-ridden, is suffering from alzheimer's or dementia, lives alone or any situation where a companion may provide comfort.
Hasbro has used state-of-the-art technology to make this robot toy appear as lifelike as possible, creating for someone, a good friend and a loyal companion who inspires joy, spontaneous smiles and a sense of nurturing.