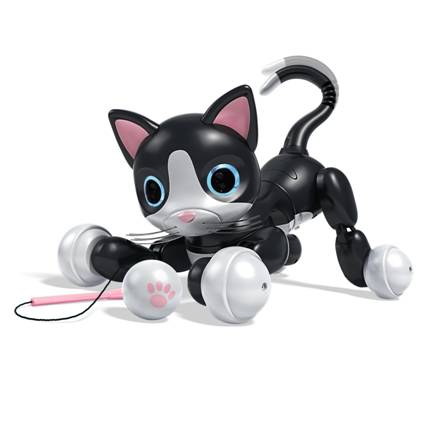 This new Zoomer Kitty from Spin Master Toys is an adorable robot kitty for kids with lots of features.
She comes with her own kitty toy, loves to cuddle and play and has none of the  claws or the litterbox maintenance of a real kitty.
In this review, we'll take a look at all the features of Zoomer Kitty and what makes her so special. We will also examine the facts regarding ownership so you can decide if this little black and white feline is the right special friend to adopt into your home.
Playing with Kitty will bring hours of fun but also some developmental and educational benefits for younger children — we'll highlight those as well.
Let's start with what's in the box if you make the decision to buy:
1 – Purrfect Little Robot Kitty
1 – USB Charging Cable for Computer or Laptop
1 – Instruction Guide for Use and Training
1 – Cute Interactive Toy for Kitty to play with
Spin Master Zoomer Kitty Interactive Features
For first time Zoomer pet buyers, Kitty is an interactive robot kitten that acts much like a real kitten — excitable, full of tricks, unconditional love and plenty of mischief.
Kitty does not require trips to the vet, will not get on your counters (unless you put her there), shed hair on your furniture, mark her territory or need a litterbox. Kitty is strictly in an inside cat.
We give Zoomer Kitty a 10 out 10 rating for cuteness but let's see what technological advancements make this little robotic kitten a worthy companion for your young pet lover.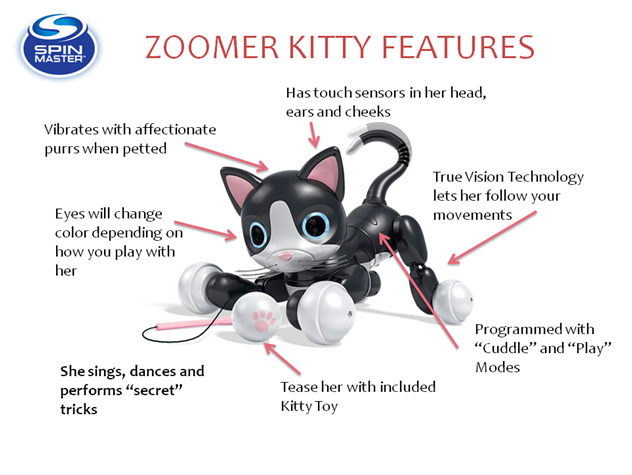 Kitty will be able to track your motion with her large expressive eyes
Depending on her mood and mode of play, her eyes will change colors so you know how she feels
Kitty can pounce like a real kitten, especially when playing with her included toy
In her "cuddle mode" she will purr and vibrate just like a real kitten
If you don't play nice with her, Kitty may hiss at you but will never bite or scratch
She sings little songs without words — more like "la la la la" to familiar tunes such as "Three Blind Mice"
She can say "I Love You" and meow "Hello" as well as dance and perform "secret" tricks found in the manual
Kitty can also knead the ground, pretending she has claws and will stretch when waking up or before going to sleep.
Zoomer Kitty comes with her own Kitty Toy that she will interact with and is sized to be easily handled my small children
Her tail moves in concert with head, eyes and leg movements letting you know she is happy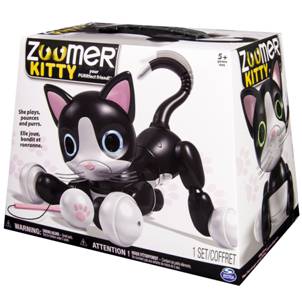 A word of caution, if you ignore Zoomer Kitty she will wander off on her own adventure and you will have to go and find her.
Operating Spin Master Zoomer Kitty
While the features are what usually attract a buyer, it helps to know, before you buy, what it takes to train and care for Kitty before bringing her home.
Initial charging time is about one (1) hour. During charging, an LED light above the USB port on the bottom of Kitty will glow "RED" during the charging period. When she is done charging, the LED light will shut off.
Operating time, based on play, for a full charge will be between 20 and 30 minutes.
Zoomer Kitty starts out in "Listening" mode and waits for your voice commands. There is a learning curve for you and Kitty before commands are learned and the right distances Kitty needs to be from you to understand commands. She will hear you best if you are no more than one (1) to three (3) feet away from her sensors.
If there are commands that you do not use on a regular basis then Kitty may forget them and will need to learn them all over again — but be patient and she will learn quickly.
Shadow measures about 8-inches WIDE x 9.2-inches TALL x 12-inches LONG and weighs just under 2 pounds
Kitty is an indoor interactive kitten because dirt, gravel and grass can get trapped in her wheels or can damage her sensors as will exposure to direct sunlight.
This Spin Master robot toy should not be exposed to any water as she is an electronic device. Wipe her clean, as needed, with a very lightly dampened, scratch-free cloth.
This Zoomer Kitty is made outside the US and is imported.
Kitty is recommended by Spin Master for Ages 5 and older.
Prices for this interactive puppy have been determined by the supplier and not this review website.
Benefits for Younger Children
For younger kids this cuddly looking interactive kitten will offer a few benefits that will work as building blocks for more advanced life skills.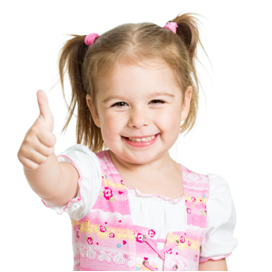 Since playing with Zoomer Kitty requires a number of steps be performed in sequence and over a period of seconds, this will help  a young child with counting.
It will also help in developing memory, as recall is required to repeat favorite features.
Problem solving comes into play when features do not operate as planned the first time a command is given. Either it's because the child did not speak clearly or is too far away from Kitty or there is background interference that keeps Kitty from responding. Learning how to work around immediate issues will enhance problem solving skills.
The learning curve associated with any new toy, will aid a younger child in becoming more independent and confident in this toy's operation as the child becomes comfortable with giving familiar commands.
Finally, there are the rewards and the pride a child feels when this purrfect playful pet responds happily to their request — how can you put a price tag on that?