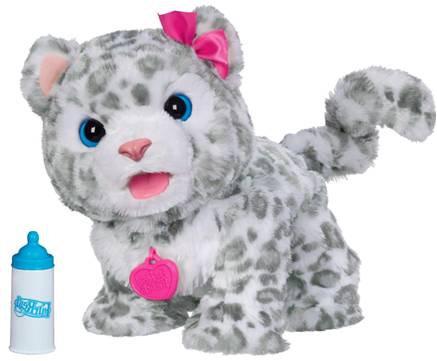 My Baby Snow Leopard, Flurry, from Hasbro's FurReal Friends line is a cuddly interactive pet and companion, available exclusively through Amazon.com for ages 4 and older.
We share with you here, all of Flurry's features and why this super soft, fluffy baby snow leopard might be the best buddy and pretend pet for any little animal lover in your home.
In our review, we will also take a look at the facts surrounding purchase of this FurReal Friends interactive toy and what benefits your little one might gain through play.
What's in the FurReal Friends Box?
Flurry has all the adorable characteristics with lovable expressions, movements and many sound combinations that will delight and capture the attention of any child who adds this spotted baby snow leopard to their play environment.
With purchase, you get:
1 – Spotted FurReal Friends "Flurry" Snow Leopard Interactive Toy
1 – Turquoise Rattle in the Shape of a Fish
1 – Baby Bottle for feeding Flurry
1 – My Baby Snow Leopard Pet Care Guide and Instructions
4 – AA Alkaline DEMO Batteries
FurReal Friends Flurry Features
This little interactive plush baby snow leopard has all the features you would expect to find in a small fluffy baby animal that needs special attention and nurturing.
From the bright blue eyes, to the pink nose and tongue to the cooing sounds, responses and movements, this little snow leopard will hold the care giver's attention as a precious companion and playmate.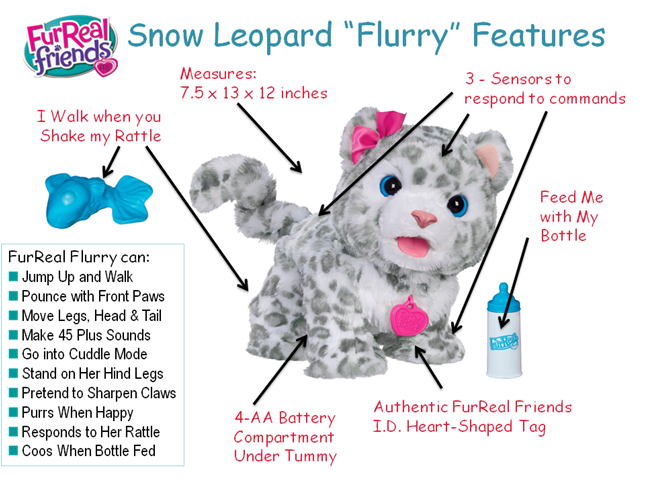 Some of FurReal Friends Flurry's more notable features are:
She is fully outfitted for her new playmate with a bright pink bow at her ear and a matching bright pink FurReal Friends heart-shaped I.D. tag around her neck.
In her "ON" or play mode she will walk toward you when you shake her rattle.
She can move her front legs and paws and make "kneading" motions.
Her legs and head can be positioned, as an example, if it is time to lay down for a nap.
Baby Snow Leopard Flurry has 3 main sensors. One light sensor on her forehead will cause her to interact with the included fish-shaped rattle. One sensor on her back will put her into "Cuddle Mode" when you press it twice. The sensor in her front right paw puts her in "Play Mode" where she will stand, walk and make any number of the 45 plus sound combinations she is programmed with. She can purr, growl, coo, meow as well as make whining and sleepy sounds.
Place the feeding bottle in her mouth when she's hungry and she will make cooing and eating sounds.
After about 45 seconds of inactivity, Flurry will think it is time for a nap and go to sleep. To wake her up just press her back or squeeze her front right paw.
FurReal Friends Flurry is very plush, super soft to the touch and has no sharp, or small loose harmful objects making play safe.
FurReal Friends Flurry Facts
Before buying this Amazon exclusive Baby Snow Leopard Flurry, it helps to know what it will take to assemble, operate and care for her. Here's what we think parents should know before purchase:
This interactive pet is recommended by the manufacturer for Ages 4 and older.
Flurry is officially licensed Hasbro FurReal Friends merchandise that is made for Hasbro outside the US and is imported from China.
Because Hasbro uses different vendors for producing their merchandise, there may be a slight variation in fur color from the image you see.
My Baby Snow Leopard has a "Try Me" mode and a "Play or ON" mode. The toy comes set in the "Try Me" mode for in-store purposes and not all features are active in this mode. Turn the switch (located on her tummy) from "Try Me" mode to "On" for full features in home use.
To activate all the features this little snow leopard has, you need four (4) AA Alkaline batteries for the battery compartment in her tummy. She comes with four (4) AA Alkaline DEMO batteries that are used for in-store purposes or DEMO MODE only. They will not work correctly in "Play Mode". NEW batteries (purchased separately) should be used for all her features to operate correctly.
As a battery operated, interactive toy, FurReal Friends Flurry is is not machine washable. She may be cleaned with a slightly damp cloth. Before using a damp cloth, brush her fur to remove any surface dirt.
She weighs just over 2.5 pounds with batteries installed and is comfortable to hold and cradle for small hands.
The only assembly required is installation of the batteries in a compartment accessed by a screwdriver provided by you.
Benefits of Interactive Play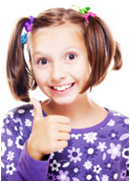 This fluffy, baby spotted snow leopard is an lovable companion for any small child.
Her bright eyes, pink nose and tongue instantly evoke a smile — her sound combinations and movements seemingly give her a unique personality your child will see.
While the manufacturer recommends FurReal Friends Flurry for Ages 4 and older, younger children will still safely enjoy her company.
The benefits of interactive play with My Baby Snow Leopard will aid a child in:
Role-playing as a care giver
Problem-solving by learning how to use her functions and features
Memory development in retaining play sequences and sound combinations
Confidence and independence as they get comfortable with this interactive toy and its features
Absolute delight when they see this fluffy baby snow leopard respond to their sensor activated commands
The fun factor and educational significance this can have for a child makes this toy a great value, will ensure hours of play and provide many stories to tell.