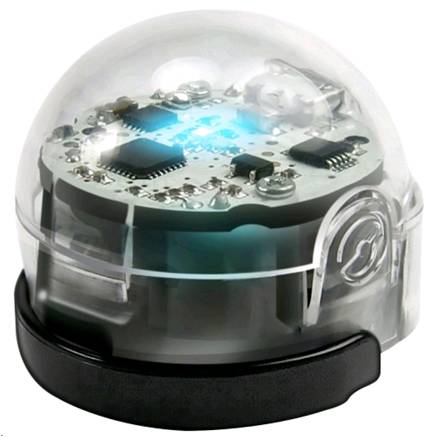 Recommended for Ages 8 plus and used in K12 classrooms, this Ozobot Bit robot toy is a pint-sized powerhouse of knowledge and fun.
In this review we will share all the features that make Ozobot Bit special and suggest what you should know before you buy.
First and foremost, the images you see may be a little misleading…the Ozobot Bit measures a miniature 1-inch square in size — but you know what they say, "Good things come in small packages"!
This is a multi-award winning toy robot that includes the 2015 Kapi's Best Robot toy award, 2015 Toy of the Year (TOTY) finalist and CES 2015 Editor's Choice award winner.
What's in the Ozobit Box?
1 Crystal White Ozobot Bit
1 Titanium Black Ozobot Bit
4 custom skins
1 carrying case
1 USB charging cable
a demo playground
Quick Guide instruction booklet
Ozobot Bit Smart Robot Toy Features
Ozobot Bit is a SMART robotic toy that uses twin micro-motors and a friction drivetrain to move in a stealthy quiet and precise movement. It has a sensor array on the bottom that lets it scan its environment.
The Ozobot Bit differs from the Ozobot Starter Pack in that the "Bit" version comes ready to work, right out of the box with the OzoBlockly Editor. Its key features include line following, color detection, mobile app integration, color language coding, OzoBlockly programming. OzoBlockly gives you the power to fully control Ozobot Bit's movements and behavior. It is powered by Google's Blockly and offers five (5) modes from Novice to Master with support for many low-level functions and advanced programming concepts.
This SMART robot can see colors, follow lines and detect intersections. That means you can draw lines and shapes on a standard piece of paper with regular markers and Ozobot will follow the lines whether straight, curvy or zig-zagging.
LED lights on Ozobot's main circuit board always provide colorful feedback to the user when responding to its environment and challenges — think "Morse Code" as Ozobot communicates back to you using messages with its colorful cryptic blinks.
Enjoy the FREE Ozobot Suite app that includes 3 different games called OzoDraw, OzoLuck and OzoPath. OzoDraw lets you navigate digital mazes, OzoLuck are games of chance and OzoPath gives you puzzle challenges to solve. You can also experience the OzoGroove app where you can upload your favorite tunes and watch OzoBot WOW you with up to 500 dance moves.
Ozobot uses a built-in LiPo (lithium polymer) battery that is quickly rechargeable via a micro-USB port (the same used for smartphones, MP3 players, GPS devices, digital cameras, etc.) and will deliver over one (1) hour of continuous action on a single charge.
Program Distance and Speed Movements to:
Spin
Zigzag
Skate
Go Forward
Go Backward
Small Circle
Rotate
Weave around Objects
Program light responses such as:
Select a Light Color
Set Random Colors
Police Car Lights
Rainbow Lights
Traffic Lights
Disco Lights
Christmas Tree Lights
Flashing Lights
Programming Ozobot Bit is not as challenging as you might think. Video tutorials provide everything you need to know to maximize your experience with this resourceful little orb.
Ozobot Bit 2.0 Robot Toy Facts
As important as the features are the facts surrounding ownership. Here are some of the facts worth knowing before making a decision to buy: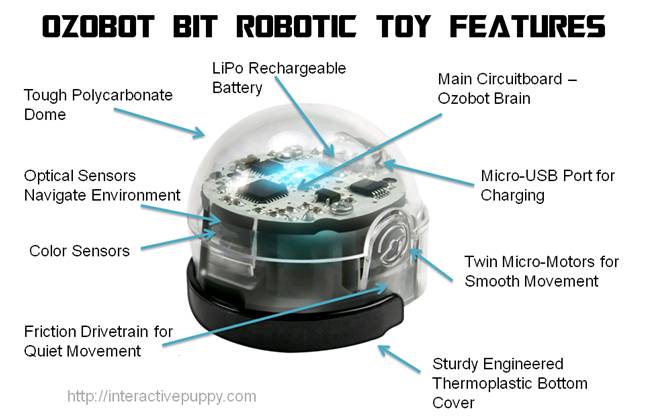 The Ozobot includes a rechargeable LiPo (lithium polymer) battery. The first time, initial charge is 30 to 40 minutes. The battery life is generally good for 300 to 500 recharging cycles. The battery in the Ozobot cannot be replaced and this is noted on the packaging.
The OzoBlockly programming will work just as well on laptops (with or without touch screen) as well as tablets.
Per the manufacturer, the Ozobot apps work best when downloaded to a tablet or laptop with a screen size of 9-inches or larger and an operating system of 3.2 or higher. The apps will work on both iOS and Android operating systems.
Once apps have been downloaded into the Ozobot, you can play offline without internet access.
Ozobot Bit is NOT waterproof so keep it away from any moisture.
Occassionally the wheels can get oily with use. To clean the wheels, simply roll Ozobot over a clean sheet of white paper several times to absorb any oil.
Ozobot Bit is sensitive to bright lights so limit exposure to direct sunlight, bright lamps and bright ambient lighting.
Print and Play Games are available through the Ozobot website HERE.
This talented little pint-sized robot toy is warranted by the manufacturer for 90 days against defects in materials or workmanship.
The Ozobot 2.0 Bit is currently sold in separately in Crystal White and Titanium Black colors and in a dual pack with one color of each. Ozobot is also available in separate Starter Packs, without the OzoBlockly interface in Turquoise and Red.
Available Accessories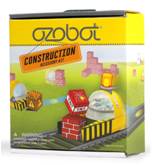 The Ozobot 2.0 Bit also comes with a series of optional accessories at added cost such as:
Color markers in WASHABLE red, blue, green and black that can be used to control Ozobot's movements.
A Construction Accessory Kit to transform this little robot into a miniature bulldozer or a forklift and build a construction site where Ozobot can move around crates and building blocks.
Conclusion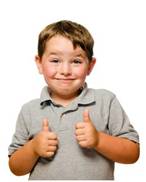 The Ozobot 2.0 Bit a learning robotic toy, ahead of its time, that opens the doors of computer science, STEM (science, technology, engineering and mathematics) education, robotics and coding, that can get your child one step ahead of the learning curve in school.
Users can easily master control of this robot using OzoCodes by simply drawing lines and color segments.
It is easy to advance to the visual block-based editor OzoBlockly, with its many features and modes with the interface already included in this model.
The number of apps available and the wide range of programming provides virtually limitless opportunities for learning and entertainment.