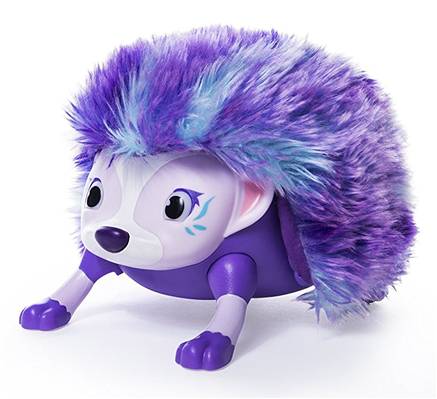 Zoomer Hedgiez are the cute and cuddly, rolly polly interactive pets that will capture your heart with their sounds, tricks and unconditional love!
Real hedgehogs look like adorable little critter cactus with prickly fur — they are naturally shy and nervous. Zoomer Hedgiez Hedgehogs, however, are very friendly, have colorful soft fur for petting or styling and love to interact with their owners.
In this review we share with you all the fun features that make this pint-sized playmate special and why good things do come in small fuzzy packages.
What's in the Hedgiez Box?
1 – Interactive Zoomer Hedgiez Hedgehog Toy
1 – Styling Comb Accessory
1 – Detailed Instruction Manual
1 – Zoomer Hedgiez Cheat Sheet
Each Hedgiez from SpinMaster operates on four (4) AAA – Alkaline Batteries that are NOT included and must be purchased separately.
Meet Dizzy, Tumbles, Flip and Whirl from the available Zoomer Hedgy family…all with the same fun-filled features but each with its own indivdual style.

Zoomer Hedgiez Interactive Hedgehog Toy Features
Zoomer Hedgiez have three (3) main sensors — one is located on its forehead, one is located at the end of its nose and one is located on its tummy. How these sensors are touched by their owners determines what a Hedgy will do…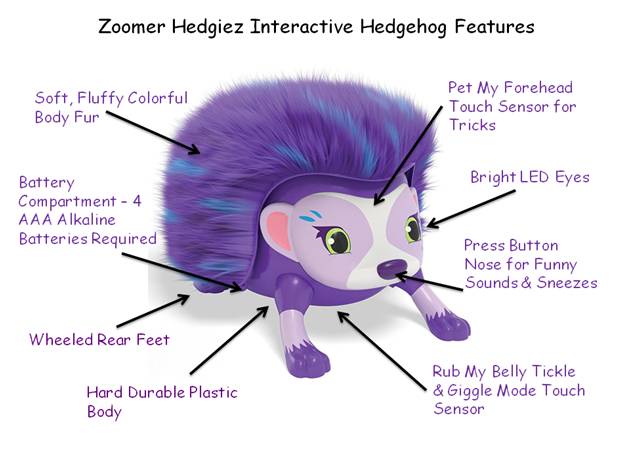 With one quick pet at the forehead, a Hedgy will stand on their head. With two quick pets they will do a double somersault and with one long pet they will respond with a triple somersault.
One quick press on their little button nose and they will make a squeaky, funny sound. Two quick presses on the nose and they will sneeze or make other cute sounds. One long press on the nose and Hedgy might blow you a kiss, coo, whistle at you or make other sweet noises.
When you cradle a Hedgy upside down they will curl into a little ball and reward you with a greeting. If they stay curled up that means they are in CUDDLE BALL MODE. You can then press their nose or head to make them uncurl.
If they lay back and show you their belly, while you hold them upside down, they want to be tickled. Pet their belly and they go into TICKLE MODE…this is where they show some love! Pet their belly slowly and they will happily coo and make other "I Love You" sounds.
In both CUDDLE and TICKLE modes they have a large number of "special" tricks they perform when you press their head, nose and belly in different combinations.
Parents may be pleased to know that this SpinMaster interactive hedgehog comes with a volume control! To reduce the volume by half, just hold the nose button down while you move the ON/OFF switch located on its underside to the ON position.
They have bright, inquisitive LED lighted eyes that let you know they are ready to play.
Zoomer Hedgy Facts
A Hedgy is recommended for Ages 5 and older. They measure approximately 8 inches long by 7 inches tall by 5.3 inches wide and weigh about 1 pound with batteries installed.
For all the features to work correctly, Hedgy needs four (4) AAA-Alkaline batteries installed that are NOT included and must be purchased separately. The battery compartment is located at the rear underside of the toy and is accessed by a screwdriver provided by you. The manufacturer does not recommend the use of rechargeable batteries.
Dizzy, Flip, Tumble and Whirl are all made outside the US and are imported.
Zoomer Hedgiez interactive hedgehogs are intended for indoor play only. If used outside on grass, dirt or concrete their plastic surfaces may get scratched or their delicate sensors may get blocked or damaged. They are, however, designed to withstand some serious indoor play.
Because a Hedgy has electronic components, it should not be exposed to water, high humidity or long periods of direct sunlight that may damage their sensors.
Use a soft, scratchless dry or lightly damp cloth to keep their sensors clean. Brushing their hair will remove most surface dust and dirt.
Hedgiez perform best if they are on flat surfaces. If on carpeting, Dizzy, Flip, Whirl or Tumble may not be able to complete a somersault and will need to be gently assisted by their owner.
If you leave Hedgy alone on its feet, side or back, it will eventually go to sleep. Just press its nose, pet its forehead or rub its belly to wake it up.