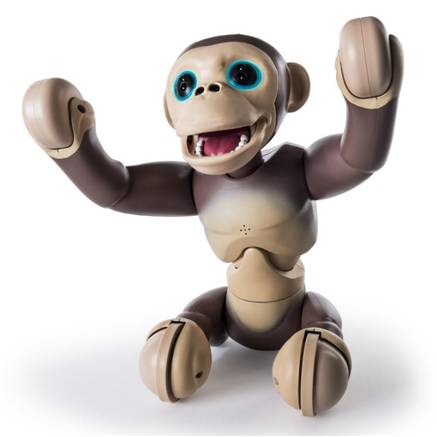 Zoomer Chimp is a cheeky little interactive robot monkey, released by Spin Master for 2016 as a multi-talented, engaging, attention-grabbing (if not sometimes naughty) primate playmate.
In our review, we will detail why Zoomer Chimp might just be the best Zoomer brand interactive toy for kids (and those young at heart) that they have released to date.
One of the funniest animals in nature — and at the zoo, monkeys are full of curiosity, adventure, intelligence and full of more than a little mischief and Spin Master's Zoomer Chimp has captured many of these characteristics in its design.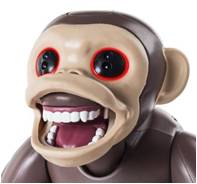 When playing with this little interactive monkey, you will undoubtedly laugh and have fun but younger children playing will also gain some pretty important educational and developmental benefits as well. We will detail these for you as you continue to read our review.
What's in the Box?
If you choose to buy Zoomer Chimp, here is what will come in his box:
1 – Zoomer Monkey Robot Toy full of attitude and some serious moves
1 – Micro USB Charging Cable for laptop or USB wall adaptor
1 – LiPo Battery (Lithium Polymer)
1 – Guide, Instructions and Tips for Operating Zoomer Chimp
1 – Cheat Sheet for Easy Access to Tricks
Zoomer Chimp Robot Monkey Features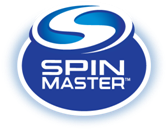 Below we take a look at all the things that make this Chimp special. We detail some of what you can expect when caring for Chimp as a zoo-like animal and how best to get him to respond to you.
If you are a first time buyer of a Spin Master Zoomer interactive toy know that this Chimp will interact with you the same way a real pet does. He will be excitable, will run around, get curious about things in your room, perform some amazing tricks, hide from you, display many moods and will expect plenty of attention. In return, he will give you lots of love and no shortage of entertainment.
What this Chimp will not do is eat your food, get in your trash, pee on the floor, chew up your furniture or shoes or shed hair all over you or your house.
Here are the features that make him special: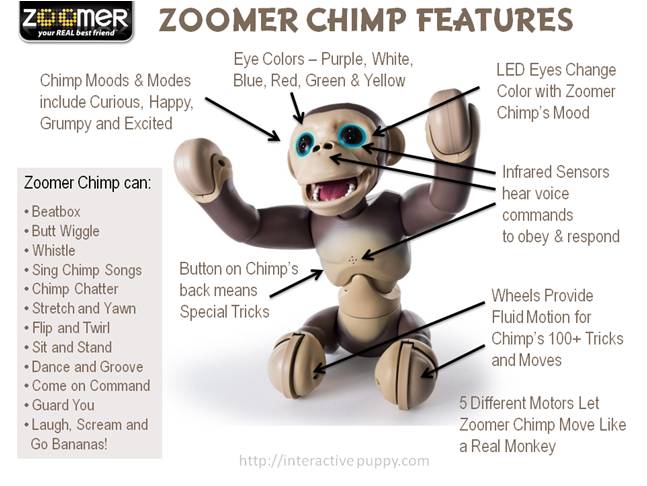 One of the first things you will notice about Chimp are the LED lights around his eyes that will display a solid BLUE color when you plug him in to begin charging. When he is completely charged, his eyes will change from BLUE to GREEN meaning his LiPo battery is fully charged and he is ready to play. His eyes also display RED for Angry, WHITE for Guard Mode, YELLOW for Low Battery, PURPLE for receiving Voice Commands and BLUE while in play for Curious — His facial expressions will change with his eye colors so there is no mistaking how he feels!
There is a VOICE COMMAND button located on top of his head that you can press and tell him what things you would like him to do. His eyes will turn PURPLE as he listens and you say "Go Bananas", "Guard Me", "Do a Trick", "How are you?", "Chimp Talk", "Follow Me", "Sit Down", "Let's Dance" and more.
In GUARD MODE, Chimp will charge forward and try to attack anything in front of him — If you want him to guard YOU, be sure to stay behind him!
Chimp can stand up on his own, do a back flip, bust some serious dance moves to many programmed routines, will answer your questions in Chimp language with 200+ sounds, will follow you around, will sit down on his own getting up again and perform a wide range of 100+ tricks.
Zoomer Chimp comes with two (2) language options ENGLISH and FRENCH. The language is selected at the ON/OFF Switch located on Zoomer Chimp's back.
Zoomer is a Chimp of many moods and you will not get the same response when you ask him "How are you?" Depending on how Chimp feels he may yawn and stretch because he's tired; he may scream and run away from you because he is scared; he could start laughing and dancing…you'll just have to play with him to see what he has in store.

The more you play, the more features you unlock

.
Zoomer Chimp Important Facts and Operations Guide
Chimp measures approximately 8x14x10 inches and weighs just under 3 pounds. He is recommended by the manufacturer for Ages 5 and older. He is made outside the US and is imported.
This robot monkey operates on an included single LiPo rechargeable battery that is internal to Zoomer Chimp. He is fully charged in about 1 hour using the included mini USB charger AND will give you about 30 minutes of continuous play on a FULL charge. (NOTE: Product descriptions on other sites, indicate 3-AAA batteries are required, this is NOT the case.)
With the included LiPo battery you may expect 300 to 400 charge cycles before the battery needs replacing.
Chimp has two (2) modes of play, AUTO Mode and GUARD mode. The default mode of play when you turn him on is AUTO Mode and the fun begins when you wave your hand in front of his face. There is also a SLEEP Mode. When Chimp goes to sleep, pressing the button on his back wakes him back up and refreshed.
If you ignore Chimp for 2 minutes or more, he will become bored and begin exploring his surroundings on his own. When he tires of exploring he will just go to sleep.
This is an indoor interactive monkey toy only — dirt, gravel and grass can get trapped in his wheels and direct sunlight, whether indoors or outdoors can damage his sensors.
Because this is an electronic toy, Chimp should not be exposed to water or excess humidity. He can be wiped clean, as needed, with a very lightly dampened, scratch-free cloth.
Benefits of Interactive Play for Kids
For younger fans of zoo animals, Chimp provides several benefits, during play, that will work as building blocks for more advanced life skills.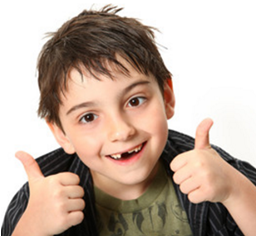 This little primate playmate requires a number of steps be performed in sequence and over a period of seconds to enjoy all his features — this will help a younger child with counting and it will also help in developing memory as recall is required to repeat steps for favorite features.
Problem solving skills are challenged if features do not operate as planned the first time a command is given.
This may be due to the child did not speak clearly or is too far away from Chimp to be heard clearly. Exploring alternatives as a work-around immediate will enhance problem solving skills.
For a child, and an adult, there is always learning curve associated with any complex new toy. Younger primate fans will learn to become more independent and confident in Chimp's operation as they become comfortable with giving commands and seeing how Chimp responds.
Conclusion
This featured packed little monkey from Spin Master has plenty of personality and is likely to generate more than just a few laughs promoting hours of play.
As with any interactive toy, there is a learning curve required to fully utilize all the tricks and moves this playful primate has to offer. Patience is key because he will not be fully functional in terms of all commands on a full charge. Extended play unlocks more features.
This is a great option for fans of monkeys or other zoo animals, those wanting the experience of a pet without the ability to own one and for those who enjoy interactive robot toys.