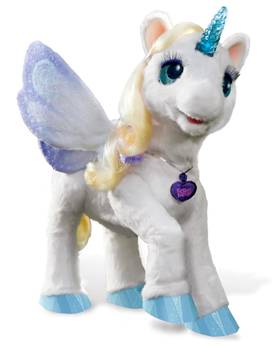 Bring the magic of a fluffy unicorn into your home by adopting this FurReal Friends, giant plush interactive unicorn named StarLily.
The legends of unicorns have been told for years — some suggesting you may only find these mystical creatures during the light of a full moon. It is said that their spiral horn will twinkle and shimmer in the moonlight and lead you to where they graze.
Most unicorns are shown in a snowy white color and are described to be very docile and gentle — those who believe in the magic of unicorns also believe that seeing one will bring good luck.
FurReal Friends Fluffy Unicorn Toy Features
Made for Hasbro, this FurReal Friends magical pet StarLily is loaded with features that literally make her seem to come to life — all to the sheer delight of her fans. What is unique in her design is her ability to immediately and instantly react with movement and sound to voice and touch commands, making her an enduring companion.
Here are the highlights of what makes this magical unicorn so special: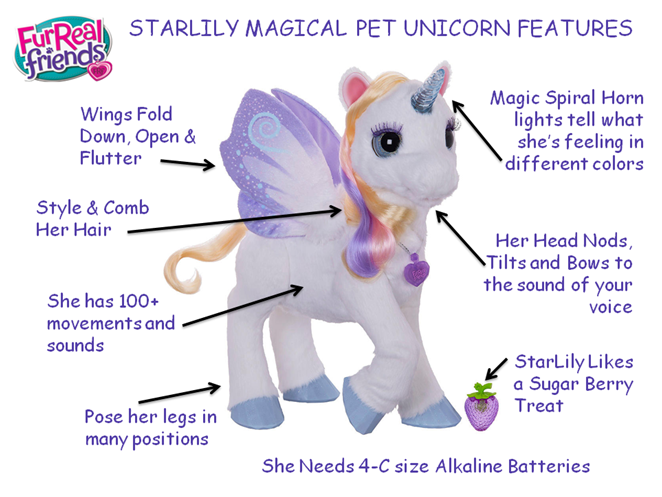 Plush, playful, interactive and huggable all in the same unicorn toy. StarLily is everything you could hope for in a stuffed unicorn and more. She is no small toy measuring about 20″H by 17.5″L by 8″ wide and she weighs just over 3 pounds.
StarLily can spread or flutter her wings depending on her mood, your voice command, or to music.
Her head will tilt, nod, turn and bow to acknowledge that she hears your voice or is responding to your touch when you pet her. She has sensors on her cheeks, under her chin, in her spiral horn and in her mouth.
All four of her legs are posable so she can stand, sit or lay down and she can lift her right hoof. She responds with sounds and movements when you pet her, touch her wings and play with her hair. She also flutters the eyelashes on her big expressive blue eyes and opens and closes her eyelids.
She is programmed with over 100 movements and sounds providing hundreds of possible combinations. The more she is played with, the more combinations you get to see making her seem more magical.
Around her neck is a FurReal Friends heart shaped pendant necklace so you know this toy is a Hasbro original.
StarLily comes with a FREE downloadable App where you can interact with her by taking her through the Furever Forest, to Sugarberry Orchards, the Wishing Tree and Crystal Caverns. App works with iPhone, iPad, iPod touch and select Android devices.
You can also sideload this App from Google Play on a Kindle Fire by following the directions HERE.
Facts about this StarLily Plush Unicorn
Overall she provides hours of engaging entertainment, can be a forever friend, and provides the benefits of social interaction, expression of feelings and role-playing…important in child development.
Included with this purchase is one (1) plush StarLily unicorn, one (1) Sugar Berry Treat to feed her and one (1) instruction manual.
At just over 3 pounds, most of her weight comes from the four (4) size "C" alkaline batteries required to enable all her many features. Batteries are NOT included and must be purchased separately. Here are inexpensive batteries at Amazon.
She is not machine washable as an interactive electronic toy but her fur is spot cleanable.
StarLily has been made for the FurReal Friends brand of Hasbro outside the US and has been imported.
She is recommended by the manufacturer for Ages 4 and older.