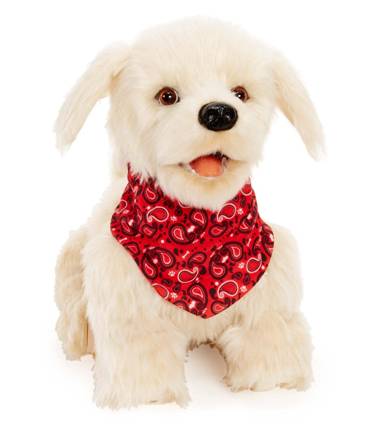 This little white robot puppy named "Georgie" from MGA Entertainment, is one adorable golden retriever interactive companion and play pal for those Ages 6 and older.
With 12 distinct, pre-programmed voice commands and over 100 surprise random actions of independent puppy behavior, this white, bandana draped fluffy robotic dog toy will keep its new owner busy with interactive play for hours.
Our review will share with you all the features that make "Georgie" such a sweetheart and why he (or she) may test you with some seriously silly and mischievious behavior.
One of Georgie's best puppy perks is YOU DO NOT NEED TO BUY BATTERIES! This very active little fur ball operates on rechargeable batteries that are included along with a USB charging cord.
Interactive Georgie Robot Puppy Features
Georgie comes to you from MGA Entertainment, the world's leading privately held toy company responsible for popular toy brands Little Tikes, Bratz, Lalaloopsy, Rescue Pets and more, winning many awards for their unique product designs.
This adorable little golden retriever themed robotic puppy is a non-gender specific toy meaning your little pet lover will enjoy Georgie as a boy puppy or girl puppy as they prefer.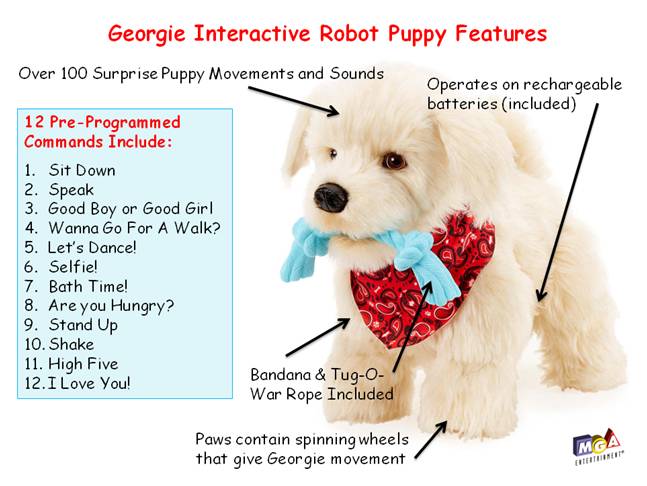 Georgie comes in attractive packaging that resembles a puppy crate and this is where Georgie sleeps at night so he feels safe. The handle on Georgie's crate packaging may be removed and doubles as a cute puppy color with a heart-shaped "Georgie" name tag.
This little golden retriever puppy is charged and ready for play right from the box. Simply say the phrase "Hey Georgie" and then one of the 12 pre-programmed commands noted above, and this interactive puppy is ready to obey.
He or she scoots around on four wheels, one of each located in Georgie's  four (4) paws. This puppy moves best on low pile carpeting.
Georgie also has the bodily functions seen in a real puppy. Don't be surprised when you hear burps, farts and peeing sounds when it's time to go.
If you ignore Georgie for 3 minutes (who would want to!), this pup will give you a big yawn and go to sleep. To wake Georgie up, just say "Hey Georgie" or pat this puppy's head.
This little interactive play pal will bark, yip, pant, yawn, growl, whine, whimper, chomp, play songs, speak phrases like "I love you".
This puppy's head, neck, legs, tail, mouth and ears will all move in response to commands, movements and sounds and will play tug-o-war when the included toy rope is placed in its mouth.
Caring for Georgie
Because Georgie is battery operated with electrical components, any contact with water or moisture should be avoided as well as extended exposure to direct sunlight.
Georgie is an inside pet and not suitable for outside play.
It is important to keep hair and clothing away from Georgie during command performances and puppy play so nothing becomes trapped in Georgie's motorized wheeled paws.
As with any puppy, Georgie should not be played with on or near stairs where a fall might happen that can damage Georgie's electrical components.
The included USB charging cable should be used for Georgie only and no other devices. Simply plug it into the port located beneath the Velcro fastener on Georgie's belly.
It takes this interative puppy about 1½ hours to fully charge and you will get about 1½ hours of continuous play on a single charge.
This puppy measures 13.0 x 12.0 x 8.0 inches and weighs just under 4 pounds. Georgie is made in China and only understands English commands.
Included with purchase is one interactive puppy, one USB charging cord, one red bandana, one chew rope, a official puppy training guide and one official adoption certificate.