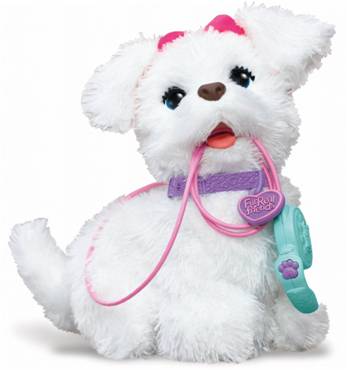 Enjoy the love of a puppy with the FurReal Friends Get Up and GoGo interactive robot puppy from Hasbro. This adorable pup is almost like having a real puppy play pal and companion.
In this review, we will look at the features of GoGo "My Walkin' Pup" from Hasbro so you can see why she's so special. We'll also detail the facts surrounding the operation and care of GoGo so you have all the information you need to make an informed buying decision.
Interactive dogs, cats, dinosaurs and other animals provide a number of benefits to the children who play with them, we will detail these as well.
Hasbro's GoGo "My Walkin' Pup" Features
Besides being soft and fluffy, this little interactive pup acts just like a real puppy — she loves to be petted and played with and can perform a lot of tricks. The more you play with her, the more responsive she becomes as she gets to know you. Here are the features we think worth noting:
What is fun for young owners is that she can recognize the sound of your voice when you talk to her or call her by the name you choose. She will initially cock her head so you'll know she has heard you.
As you continue to talk to her, she will walk towards the sound of your voice. To make her stay still, you just pet her forehead. She will stop moving because she's happy and likes to be petted.
Her realistic puppy sounds add to her authenticity. She will bark, whine, pant, yawn and can growl (but not in a scary way).
She also makes normal puppy moves like sitting, walking, wagging her tail, dancing, and spinning.
My Walkin' Pup is programmed with a "Guard" mode that is activated by pressing her left side for 5 seconds. She will growl, letting you know she is in "Guard" mode and will turn towards any suspicious sounds, making a growling noise, but will not move. To end the "Guard" mode, she just needs to be petted.
She has sensors on her left and right sides, her back and her forehead as well as a microphone behind her collar so she can hear your voice and understand commands.
Because she always wants to look nice, there is also a "Grooming" mode. To activate the this mode, pet one of her sides, then her head, then her back, in sequence and then her head and back again. She will stop all movement and only respond by turning her head to petting and sounds. This is the perfect time to add ribbons or hair clips (not included) and brush her.
FurReal Friends Get Up and GoGo comes with a FREE App and will wirelessly connect to the App. The App is also ad-free which makes it doubly nice. With the App you can play mini-games with GoGo and create tasty puppy meals, give her a bubble bath, change her look and throw play toys and treats to her for her to fetch. This App works on iPhone and iPad.
It is also supported by these Android devices running OS 2.3.3 or newer:
Kindle Fire HD
Google Nexus 7 and Nexus 10.1
Motorola Razr HD
Samsung Galaxy Note II
Samsung Galaxy SII, Galaxy SIII and Galaxy SIV
Samsung Galaxy Tab2
Facts about FurReal Friends GoGo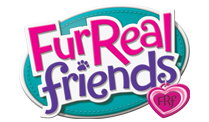 While the features are what usually attract a buyer, it's nice to know, up front, the facts surrounding the toy — what it takes to assemble it, operate it and care for it. Here's what we think you would like to know:
The GoGo My Walkin' Pup requires four (4) C-Type (LR14) alkaline batteries (not included) to operate all the features.
Batteries are installed in a compartment in GoGo's tummy and accessed with a Phillips head screwdriver (not included).
This FurReal Friend measures approximately 7.1-inches wide x 10.4-inches tall x 11.7-inches long and weighs, with batteries, just over 2 pounds.
She is recommended by the manufacturer for Ages 4 and older.
This interactive puppy will respond best to commands, through numerous sensors, if in a quiet environment without a lot of loud background noise like a television.
If FurReal Friends GoGo sits idle for a few minutes, she will go to sleep. To wake her, simply pet her forehead.
Rechargeable batteries can be used but are not recommended. A longer battery life is achieved with alkaline batteries.
Electrical interference may impact FurReal Friends GoGo's features. If this happens, move GoGo away from the source and reset her by switching her ON and OFF or removing and reinstalling the batteries.
GoGo is not machine washable as this will damage sensors and electronics. To clean her, brush her fur to loosen any dirt and then use a slightly damp cloth to remove any stains.
She works best as an indoor interactive puppy and should not be exposed to sand, gravel, dirt, grass or anything that might block or damage her sensors.
Do NOT expose My Walkin' Pup GoGo to any direct sunlight for any length of time as it may permanently damage this interactive puppy's sensors.
Hasbro offers a 90-day limited warranty through Tiger Electronics, Ltd. to the original purchaser for any defects in materials or workmanship from date of purchase. Tiger Electronics may choose to repair or replace any product parts or the toy at their discretion.
This interactive puppy is made for Hasbro outside the US and is imported from China.
Prices have been determined by the supplier and not this review website.
Prices will change based on popularity and availability — since this is slated to be a hot holiday seller, shop early before prices start to rise!
Developmental Benefits for Children with GoGo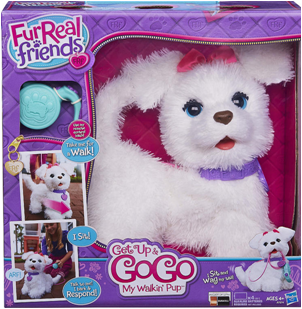 This interactive toy comes with some educational and developmental benefits for younger children. These benefits are the building blocks for more advanced skills used later in life. You might be surprised to know that:
GoGo will make your child curious enough to want to discover either with your help or on their own, all this interactive puppy can do.
Problem solving is one benefit gained as they learn how everything works and through play — they will then remember what they need to do for specific functions each time they play afterward.
They will learn counting and sequencing as several of the features require a number of steps performed in sequence to achieve a result.
As a child learns and remembers each feature, they will become more independent in play.
GoGo My Walkin' Pup will also inspire role-playing where your child will develop their own stories with their new interactive companion — these can be from books, movies or unique roles they choose for themselves or their little plush pal.
Conclusion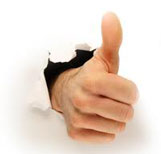 For entertainment value, the Hasbro FurReal Friends Get Up and GoGo interactive robot dog toy will appeal to younger players.
The soft fluffy fur, adorable puppy face together with the whines, barks, yips, and some not so ferocious growls will delight any young child who may be allergic to a real dog or is afraid around larger animals or who just likes something soft and cuddly that responds when they call.
They can name this puppy whatever they want and she will respond to that name as well as a host of commands. There will be a little bit of learning curve for younger players and the provided instructions from Hasbro do not address all the features that will be discovered through play.
This puppy does not makes turns, however, and can only move in forward to backward motions. This may be little frustrating when navigating around furniture but the sounds, features and the FREE app more than make up for this minor inconvenience.
The App is one of the best bonuses in that the mini-games come with rewards and allow a player to do so much more with this interactive puppy than standard play alone.